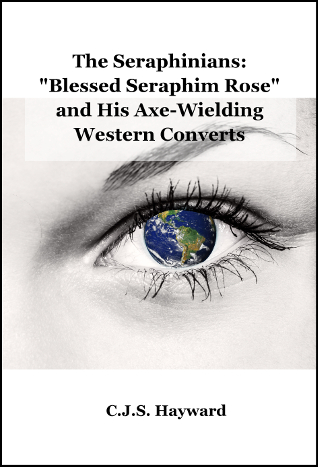 On Facebook, one Orthodox priest (ROCOR, if I recall) commented in reference "Blessed Seraphim Rose," "'Blessed?' When did that happen?"
I'd like to unravel that a bit. Let me say it's very simple when that happened. It happened when Fr. Seraphim breathed out his last breath. It's that simple.
We have an expression today that someone who has passed away in the Lord is said to be "of blessed memory." That expression has been with us forever. Ecumenical councils like Chalcedon have even used a shortening of the original phrase, "blessed." So today we might speak of "blessed Alexander Schmemann" or "blessed Alexander Lossky" as quickly and readily as "blessed Seraphim (Rose)." Or really these other two might be more appropriate, because we usually try to avoid using a monk's last name.
But the meaning of "blessed" has been hijacked!
There are at least two difference between "Blessed" for Fr. Seraphim compared to any other camp I've met:
First, the 'B' is capitalized like an expected honorific; Fr. Seraphim seems to never be "blessed."
Unique in what I have seen, "Blessed" has been abbreviated to "Bl."
Both of these nitpicks point out to something. More specifically, the word "Blessed" when used of Fr. Seraphim does not work like most adjectives. It is not fluid. It functions as the kind of honorific that would be rude to omit. And all this is strange if the point is to announce to the whole world that Fr. Seraphim has passed away.
In some academic circles this would be called, "misusing a speech act." For practically everyone else I've sampled, the term "blessed" is a gentle ackowledgement of someone's passing and nothing more.
In the fundamentalist usage, the use of "Blessed" is not, however much used, a shrill insistence to keep on telling the whole world that their leader, Fr. Seraphim, is dead.
Fr. Seraphim's following is not not even honest, not even to themselves: people warp an obscure term to be able to treat Fr. Seraphim as, to quote one flame, "If he is not a saint, who is?"
And to put things differently, the practice of calling someone of blessed memory, "blessed," is being used as a sort of ecclesiastical loophole to venerate someone who has not been canonized.
In my earliest treatment of the topic, What Makes Me Uneasy About Fr. Seraphim (Rose) and His Followers:
Let me try to both introduce something new, and tie threads together here. Subjectivism can at its heart be described as breaking communion with reality. This is like breaking communion with the Orthodox Church, but in a way it is more deeply warped. It is breaking communion not only with God, but with the very cars, rocks and trees. I know this passion and it is the passion that has let me live in first world luxury and wish I lived in a castle. It tries to escape the gift God has given. And that passion in another form can say, "If God offers me Heaven, and Heaven requires me to open up and stop grasping Fr. Seraphim right or wrong, I will escape to a Hell that makes no such demand for me to open up to God or His reality." And it is a red flag of this passion that breaks communion with reality, that the people most devoted to Fr. Seraphim hold on to pieces of fundamentalism with a tightly closed fist. And these Protestant insistences are a red flag, like a plume of smoke: if one sees a plume of smoke coming from a house, a neighbor's uncomfortable concern is not that a plume of smoke is intolerable, but that where there's smoke, there's fire and something destructive may be going on in that house. And when I see subjectivism sweep things under the rug to insist on Fr. Seraphim's canonization, and fail to open a fist closed on Protestant approaches to Holy Orthodoxy, I am concerned not only that Fr. Seraphim's colleague may have broken communion with the Orthodox Church to avoid Church discipline, but that Fr. Seraphim's devotees keep on breaking communion with reality when there is no question of discipline. The plume of smoke is not intolerable in itself, but it may betray fire.
There's some pretty twisted logic there, and it's warped in the same way.
Read more of The Seraphinians: "Blessed Seraphim Rose" and His Axe-Wielding Western Converts on Amazon!