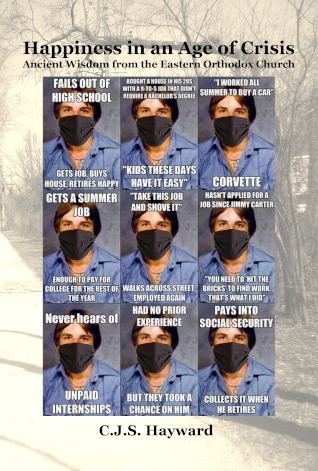 I was given a ride recently for a hospital visit over an hour away. I thanked the friend and postulant (beginner at an Orthodox monastery). He commented that he liked being with me, because I was very calm and calming to be around. That was exquisite politeness, but it was not flattery. Another postulant, my godson, commented that he liked being around me because he hoped some of my calm would rub off. The thought occurred to me that I might write down some of what I have learned about keeping one's calm, and send a link to both postulants. As I told them, some of my calm is hard-won, and I wanted to talk about what to do that might win it.
I do not believe the Law of Attraction as formulated in New Age to be desirable, but there is a Little Law of Attraction that is worth its proverbial weight in gold. The Little Law of Attraction is that if you think thoughts of peace, you will get more and bigger thoughts of peace, and if you think thoughts of anger, you will get more and bigger thoughts of anger, and conflict with it. If we keep our mind on our circumstances, we will be dragged into a Hell on earth. If we focus on the Lord, we will have peace and a Heaven on earth. Thus I would summarize the better parts of Our Thoughts Determine Our Lives by Elder Thaddeus, which also says that we have an incredibly beautiful sensitivity to the thoughts of others, and pick up on what they are feeling. This is part of why my deep calm was calming to the others. Furthermore, even if we do not realize it, we have a choice whether to be dominated by the anger of others. My understanding, not having read the book, is that this is the same freedom discussed in Man's Search for Meaning by Viktor Frankl, and the latter may be a better starting point. We may not recognize our freedom here, and it comes in a brief window, but we have a choice. Addicts are told, "You have more power than you think," and the power can be exercised in this short window.
That choice is in continuity with nipsis or the spiritual watchfulness of the Philokalia, which on this point I would summarize as follows. If there is a spark that can become a flame in your house, you can put it out before it becomes a proper flame. If it does become a proper flame, you can put it out before it spreads with a fire extinguisher, but this is worse than just putting out the spark. If it becomes a flame that is too big to put out with a fire extinguisher, and spreads through your house, if you leave with your life you can call the fire department and you may have the flame put out then, and get insurance to help, but it is better to put it out with a fire extinguisher than wait until it is too big for a fire extinguisher. There are several ways to escape with your life, but the earlier in the process you stop it, the better, and the least harm it will cause you. If you put out what is still just a spark when it is still just a spark, the entire remainder of the damaging process of a house fire is avoided.
For an Arthurian image, be like the Fisher-King, in a boat on the waters, watching with a spear to stab fish in the water. And there is something further I would like to point out: the Fisher-King is wounded through the thighs, meaning he is wounded between the thighs, and of a damaged virility.
The biggest attack on manhood in the recent past is porn. Porn is, to quote Proverbs, "in the beginning as sweet as honey, and in the end bitter as gall and sharp as a double-edged sword." Lust is the disenchantment of the entire universe, which disenchants everything else, and then disenchants itself. The only goal of lust is more lust, and porn is nothing more than an advertisement for more porn. Furthermore, what men do after looking at porn is an ultimate exploitation of the model, using her unhappy performance just as a tool to spark... if you have this struggle, and most men today do, think about what is really going on. And lust is cruel; it generates anger whenever it is not getting a "fix", and it is a great enemy to inner peace.
I mention this point, which may seem none of my business, because really the whole Sermon on the Mount relates to calm. Lust and porn are an enemy to calm, and worth getting free of. The Sermon on the Mount does not just help us reach calm when it touches on stoic philosopher Seneca the Younger's "We suffer more in imagination than in reality," and says not to borrow trouble from tomorrow because "each day has enough trouble as its own." Trying to solve the rest of your life's problems on a day's resources is a gateway to something truly hellish, and worry does nothing but hurt us: "Do you think you can add a single hour to your life by worrying? You might as well try to worry your way into being a foot taller!"
Another point in the Sermon on the Mount has to do with love for enemies. Love for enemies was something I knew to be important growing up, but I did not really know how. My struggles with remembering wrongs others had done against me (a sin by the way—and nothing merry!), became markedly better when I was able to thank God for them. St. Silouan and the writing of St. Silouan's disciple St. Sophrony and St. Sophrony's disciple Archimandrite Zacharias were tremendously helpful in helping me let go of an onerous burden of remembering all the bad things that had happened to me. They also underscore something important: how much you love your enemies is a litmus test for how far you love God, so love for enemies is not just one issue among others. We should not be angry to those who wrong us, but love and pity them for bringing occasion for our suffering. Innocent suffering is a sharing in the sufferings of Christ, and the Sermon on the Plain bids you leap for joy when you are badly treated because of Christ. However, the principle applies to undeserved suffering.
There was a student who worked in my department's office, who talked about having butterflies in her stomach about a shortly upcoming dance performance. I gave permission to offer a word of advice, and I asked her, "Is there a person, or a place, or a memory that is pleasant to think about to you?" She said that yes, there was such a thing. I said that she had practiced and the only thing remaining was to do the performance, and I told her, "I want you to think about that until the performance." Counting your blessings, and being grateful for all that God and other people have given you, is a recipe for joy, and it was more in reach than my telling her not to worry: yes, that is what I wanted, but on her resources, how? If some of what I said above is too much for you now, it may be an easier task to be mindful of your blessings. It has been said that in prayer we should not have very good thoughts but no thoughts, but that's a more advanced lesson. Even if St. Silouan and his spiritual progeny have something better, developing gratitude is a recipe for joy, and it is something else that we can do to try to push out remembrance of wrongs others have done against us.
When I was studying theology and things were getting rough, there was a period of about two or three weeks when I was stressed to the point of uninterrupted waking nausea. Part of it was triggered by a questionable decision a doctor made with my medication, but the heart of my worry was, "Will there be a place for me?" And there has been a place: I was at my parents' house, and then now at this monastery where I am trying to grow up. I am retired on disability. Now the question may come of, "But inflation is taking off," to which I would say, "The Bible never says, 'Lack of money is the root of all evil.'" Most of the original recipients of the Sermon on the Mount was addressed to the poor and downtrodden in what would today be considered a third world economy. As the cliché goes, "I do not know what tomorrow will bring, but I know Who brings tomorrow." Possibly changes in the economy will result in, or rather trigger my death, but I have never in my life gone to bed knowing that I would wake up the following morning. I do not see my death as really negotiable, unless I live to Christ's return, and I would recall a joke where a husband and wife came to Heaven and the husband told his wife, "We could have been here several years earlier if you hadn't cooked such healthy food!" Death is not to be feared, just death outside of repentance, death outside of obedience to the Lord, and the Lord can see that there is a place to me even if I die tomorrow.
There is an old Protestant hymn that says,
Keep your eyes upon Jesus,
Look full in his wonderful face,
And the things of this world will grow strangely dim,
In the light of his glory and grace.
My abbot underscores a short maxim of "Never react. Never resent. Keep inner peace." The intent of this posting is not to offer something better, but to offer an aid how. And if you want low-hanging fruit, try to let go of worry and trying to solve tomorrow's problems on today's resources, and start trying to push such thoughts out of your heart by giving them competition in terms of active remembrance of every good blessing God has given you in your entire life. And maybe read e.g. God the Spiritual Father or better the whole collection in Happiness in an Age of Crisis, which includes God the Spiritual Father and several other relevant pieces.
Much Love,
Br. Christos