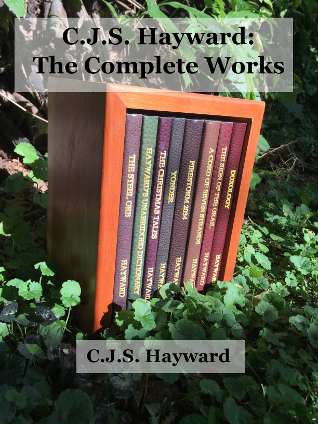 Br. Christos
---
Classes and Levels:
Level 11 Renaissance Man
Level 7 Orthodox Mystic
Level 1 Orthodox Monastic
Stats and Basic Info:
Race/Template: Human
Gender: Male
Alignment: Lawful Good
Religion / Patron Deity: Orthodox Christian
STR: 12
DEX: 10
CON: 8
INT: 18
WIS: 16
CHA: 8
Hit Points: 76
BAB: +8
Fortitude: 11
Reflex: 13
Will: 22
Renaissance man areas of skill:
Major areas:
Master's degrees bridging mathematics and computers (UIUC) and theology and philosophy (Cambridge)
Anthropology / Cultures
Computer Science / Programming
Linguistics / Languages
Mathematics
Philosophy
Theology
User Experience
Writing
Possessions on person:
Black robes.
Swiss Army Knife toolchest.
Portable computer that is designed for outdoor use in inclement weather and can run any operating system he wants and any programming language he wants.
A non-5G iPhone which he would not trade for a new one.
Feats
Ambidexterity
Craft Wondrous Software
Craft Wondrous Writing
Dodge
Improved Unarmed Strike
Toughness
Weapon Specialization, Crossbow
Weapon Double Specialization, Rifle
Skills
Balance: 15
Climb: 18
Concentration: 18
Decipher Script: 19
Disguise: 12
Diplomacy: 17
Handle Animal: 14
Heal: 17
Hide: 22
Knowledge Architecture/Engineering: 20, Geography 20, History 20, Nature 20, Nobility/Royalty 20, Religion 35, Literature: 20
Languages: English 22, French 21, Spanish 20, Italian 19, Latin 19, Greek 19, Python 24, HTML5 22, CSS3 21, JavaScript: 23
Listen: 17
Move Silently: 22
Perform: Keyboard 10, Oratory 15
Profession: Author 20, Developer 20
Ride: 11
Tumble: 11
Use Rope: 12
Description
Brother Christos is a born renaissance man, with activities from inspired keyboard improvisation to making a four-dimensional maze, from writing A Dream of Light to a Myst-like souvenir from Cambridge, and more.
He has had a lot of being in the right place at the right time, and started his first and now most extensive website at cjshayward.com, within a year or two of the web's founding. His preserved works at the Internet archive are as old as the archive itself.
In recent years he has increasingly focused on being a student of Orthodox patristics, and more specifically asking what is good for man, and more specifically than that, how to navigate a technology-laden maze when many mainstream options are ultimately counter-productive. His magnum opus, called The Luddite's Guide to Technology, looks at the maze and how to navigate it in a many-sided way, and over half of the preferred introduction to his works, CJS Hayward in Under 99 Pages, are pulled from his extensive works on technology and man. Likewise, his autobiography is titled, Orthodox Theology and Technology: A Profoundly Gifted Autobiography.
With years, the transformational nature of the Orthodox spiritual path has helped him to grow, and part of that growth is being deeply calm, a contagious calm that settles on those around him, and has had some people wanting to be with him so that part of the calm will rub off onto them. For them he wrote Calm.
And he always meeting some of his readers, and you are invited to contact him.
A quote:
[Other name changed]
Christos [Puts hand on the shoulder of the father of teenage Adam]: "Adam hurt my feelings."
Adam [confused]: "How did I do that?"
Christos: "Fess up, Adam, and then we'll both know."