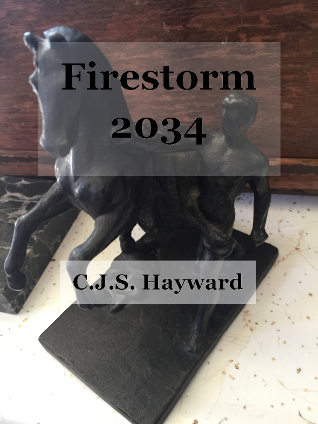 It was late in the day, and my feet were hurting.
I had spent the past three hours on the winding path up the foothills, and you will excuse me if I was not paying attention to the beauty around me.
I saw it, and then wondered how I had not seen it—an alabaster palace rising out of the dark rock around it, hidden in a niche as foothill became mountain. After I saw it, I realized—I could not tell if the plants around me were wild or garden, but there was a grassy spot around it. Some of my fatigue eased as I looked into a pond and saw koi and goldfish swimming.
I looked around and saw the Gothic buildings, the trees, the stone path and walkways. I was beginning to relax, when I heard a voice say, "Good evening," and looked, and realized there was a man on the bench in front of me.
He was wearing a grey-green monk's robe, and cleaning a gun. He looked at me for a moment, tucked the gun into a shack, and welcomed me in.
Outside, the sun was setting. At the time, I thought of the last rays of the dying sun—but it was not that, so much as day giving birth to night. We passed inside to a hallway, with wooden chairs and a round wooden table. It seemed brightly enough lit, if by torchlight.
My guide disappeared into a hallway, and returned with two silver chalices, and set one before me. He raised his chalice, and took a sip.
The wine was a dry white wine—refreshing and cold as ice. It must have gone to my head faster than I expected; I gave a long list of complaints, about how inaccessible this place was, and how hard the road. He listened silently, and I burst out, "Can you get the master of this place to come to me? I need to see him personally."
The servant softly replied, "He knows you are coming, and he will see you before you leave. In the mean time, may I show you around his corner of the world?"
I felt anger flaring within me; I am a busy man, and do not like to waste my time with subordinates. If it was only one of his underlings who would be available, I would have sent a subordinate myself. As I thought this, I was surprised to hear myself say, "Please."
We set down the chalices, and started walking through a maze of passageways. He took a small oil lamp, one that seemed to burn brightly, and we passed through a few doors before stepping into a massive room.
The room blazed with intense brilliance; I covered my eyes, and wondered how they made a flame to burn so bright. Then I realized that the chandaliers were lit with incandescent light. The shelves had illuminated manuscripts next to books with plastic covers—computer science next to bestiaries. My guide went over by one place, tapped with his finger—and I realized that he was at a computer.
Perhaps reading the look on my face, my guide told me, "The master uses computers as much as you do. Do you need to check your e-mail?"
I asked, "Why are there torches in the room you left me in, and electric light here?"
He said, "Is a person not permitted to use both? The master, as you call him, believes that technology is like alcohol—good within proper limits—and not something you have to use as much as you can. There are electric lights here because their brilliance makes reading easier on the eyes. Other rooms have torches, or nothing at all, because a flame has a different meaning, one that we prefer. Never mind; I can get you a flashlight if you like. Oh, and you can take off your watch now. It won't work here."
"It won't work? Look, it keeps track of time to the second, and it is working as we speak!"
The man studied my watch, though I think he was humoring me, and said, "It will give a number as well here as anywhere else. But that number means very little here, and you would do just as well to put it in your pocket."
I looked at my watch, and kept it on. He asked, "What time is it?"
I looked, and said, "19:58."
"Is that all?"
I told him the seconds, and then the date and year, and added, "But it doesn't feel like the 21st century here." I was beginning to feel a little nervous.
He said, "What century do you think it is here?"
I said, "Like a medieval time that someone's taken a scissors to. You have a garden with perfect gothic architecture, and you in a monk's robe, holding an expensive-looking rifle. And a computer in a library that doesn't even try to organize books by subject or time."
I looked around on the wall, and noticed a hunting trophy. Or at least that's what I took it for at first. There was a large sheild-shaped piece of wood, such as would come with a beautiful stag—but no animal's head. Instead, there were hundreds upon hundreds of bullet holes in the wood—enough that the wood should have shattered. I walked over, and read the glass plate: "This magnificent deer shot 1-4-98 in Wisconsin with an AK-47. God bless the NRA."
I laughed a minute, and said, "What is this doing in here?"
The servant said, "What is anything doing here? Does it surprise you?"
I said, "From what I have heard, the master of this place is very serious about life."
My guide said, "Of course he is. And he cherishes laughter."
I looked around a bit, but could not understand why the other things were there—only be puzzled at how anyone could arrange a computer and other oddments to make a room that felt unmistably medieval. Or was it? "What time is it here? To you?"
My guide said, "Every time and no time. We do not measure time by numbers here; to the extent that time is 'measured', we 'measure' by what fills it—something qualitative and not quantiative. Your culture measures a place's niche in history by how many physical years have passed before it; we understand that well enough, but we reckon time, not by its place in the march of seconds, but by the content of its character. You may think of this place as medieval if you want; others view it as ancient, and not a small part is postmodern—more than the computer is contemporary."
I looked at my watch. Only five minutes had passed. I felt frustration and puzzlement, and wondered how long this could go on.
"When can we move on from here?"
"When you are ready. You aren't ready yet."
I looked at my watch. Not even ten seconds had passed. The second hand seemed to be moving very slowly.
I felt something moving in the back of my mind, but I tried to push it back. The second hand continued on its lazy journey, and then—I took off my watch and put it in my pocket.
My guide stood up and said, "Walk this way, please."
He led me to a doorway, opening a door, and warning me not to step over the threshold. I looked, and saw why—there was a drop of about a foot, into a pool of water. The walls were blue, and there was sand at the far end. Two children—a little boy and a little girl—were making sand castles.
He led me through the mazelike passages to rooms I cannot describe. One room had mechanical devices in all stages of assembly and disassembly. Another was bare and clean. The kitchen had pepperoni and peppers hanging, and was filled with an orange glow that was more than torchlight. There was a deserted classroom filled with flickering blue light, and then we walked into a theatre.
The chamber was small, and this theatre had more than the usual slanted floor. The best way I could describe it is to say that it was a wall, at times vertical, with handholds and outcroppings. There were three women and two men on the stage, but not standing—or sitting, for that matter. They were climbing, shifting about as they talked.
I could not understand their language, but there was something about it that fascinated me. I was surprised to find myself listening to it. I was even more surprised to realize that, if I could not understand the words, I could no less grasp the story. It was a story of friendship, and there is something important in that words melted into song, and climbing into dance.
I watched to the end. The actors and actresses did not disappear backstage, but simply climbed down into the audience, and began talking with people. I could not tell if the conversation was part of the act, or if they were just seeing friends. I wondered if it really made any difference—and then realized, with a flash, that I had caught a glimpse into how this place worked.
When I wanted to go, the servant led me to a room filled with pipes. He cranked a wheel, and I heard gears turning, and began to see the jet black keys of an organ. He played a musical fragment; it sounded incomplete.
He said, "Play."
I closed my eyes and said, "I don't know how to play any instrument."
He repeated the fragment and said, "That doesn't matter. Play."
There followed a game of question and answer—he would improvise a snatch of music, and I would follow. I would say that it was beautiful, but I couldn't really put it that way. It would be better to say that his music was mediocre, and mine didn't quite reach that standard.
We walked out into a cloister. I gasped. There was a sheltered pathway around a grassy court and a pool stirred by fish. It was illumined by moon and star, and the brilliance was dazzling.
We walked around, and I looked. In my mind's eye I could see white marble statues of saints praying—I wasn't sure, but I made up my mind to suggest that to the master. After a time we stopped walking on the grass, and entered another door.
Not too far into the hallway, he turned, set the oil lamp into a small alcove, and began to rise up the wall. Shortly before disappearing into the blackness above, he said, "Climb."
I learn a little, I think. I did not protest; I put my hands and feet on the wall, and felt nothing. I leaned against it, and felt something give way—something yielding to give a handhold. Then I started climbing. I fell a couple of times, but reached the shadows where he disappeared. He took me by the hand and began to lead me along a path.
I could feel a wall on either side, and then nothing, save his hand and my feet. Where was I? I said, "I can't see!"
A woman's voice said, "No one can see here. Eyes aren't needed." I felt an arm around my waist, and a gentle squeeze.
I felt that warmth, and said, "I came to this place because I wanted to see the master of this house, and I wanted to see him personally. Now—I am ready to leave without seeing him. I have seen enough, and I no longer want to trouble him."
I felt my guide's hand on my shoulder, and heard his voice as he said, "You have seen me personally, and you are not troubling me. You are here at my invitation. You will always be welcome here."
When I first entered the house, I would have been stunned. Now, it seemed the last puzzle piece in something I had been gathering since I started hiking.
The conversation was deep, and I cannot tell you what was said. I don't mean that I forgot it—I remember it clearly enough. I don't really mean that it would be a breach of confidence—it might be that as well. What I mean is that there was something special in that room, and it would not make much sense to you even if I could explain it. If I were to say that we talked in a room without light, where you had to feel around to move about—it would be literally true, but beside the point. When I remember the room, I do not think about what wasn't there, but what was there. I was glad I took off my watch—but I cannot say why. The best thing I can say is that if you can figure out how a person could be aware of a succession of moments, and at the same time have time sense that is not entirely linear—or at very least not just linear—you have a glimpse of what I found in that room.
We talked long, and it was late into the next day when I got up from a perfectly ordinary guestroom, packed, and left. I put on my watch, returned to my business, and started working on the backlog of invoices and meetings that accumulated in my absence. I'm still pretty busy, but I have never left that room.