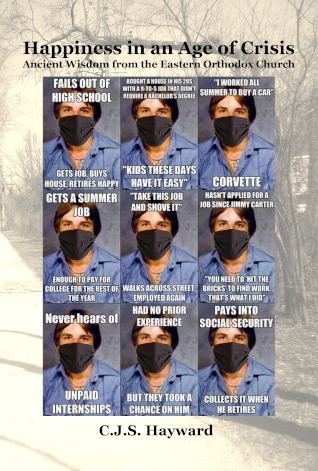 O Lord,
Have I not seen,
How thou hast placed me in Paradise?
And how have I said,
That a first monastic command,
Is, "Go home and spend another year with your family?"
While I have spent a few?
The obedience is not limited,
By a count of years,
But by obedience,
This being a first obedience.
Gifts I have fought as chance left me,
Bloodied, but more deeply bowed:
Saul, Saul, why persecutest thou Me?
It hurteth thee to kick against the goads.
I stand, or sit,
Not scholar, nor user experience professional,
Making use of a life of leisure,
Learning leisure well, to lord it over leisure,
Once I made a vow before a wonder-working icon in Brooklyn,
That I might receive a doctorate,
Earned or honorary,
And since then have prayed that my vow not be granted,
An honorary doctorate not to receive,
Because I do not want it enough to even travel,
To give the icon a kiss of veneration!
An Invitation to the Game is an icon,
Of children in a proletariat of excessive leisure,
Excessive leisure being a training ground,
Before a new life in a new world begins.
God the Spiritual Father looks after,
Each person he has made,
As a spiritual father looks after each disciple,
God looketh after each,
In the situations he placed each:
"Life's Tapestry"

Behind those golden clouds up there
the Great One sews a priceless embroidery
and since down below we walk
we see, my child, the reverse view.
And consequently it is natural for the mind to see mistakes
there where one must give thanks and glorify.

Wait as a Christian for that day to come
where your soul a-wing will rip through the air
and you shall see the embroidery of God
from the good side
and then everything will seem to you to be a system and order.
What have I to add,
To words such as these?
This time is a time of purification and training,
And as in times past,
In an instant, I may be taken to a monastery,
As I was taken to study theology,
Six months' work to obtain student loans,
Falling into place one business day before leaving.
Thou teachest me,
And I know thou art willing to save:
Whether or not my plans are the best.
Whether I ever reach monasticism,
Thou art potent to save.
I might need to seek monasticism:
God can save me with or without.
So I learn patience,
Fly through FluentU and learn Russian,
And here I sit,
In a place thou hast opened my eyes to see as Paradise,
And with lovely food pantries,
And visits to pets at a lovely cat shelter,
And thou ever ministerest to me.
Though thousands around me be addicted to television,
And ten thousands can't stop checking their cell phones,
Thou hast delivered me,
And taught me to lord it over technologies,
Perchance a prophet in the way,
To the technology user who still suffers,
To those who remain entangled in the Web.
Thou hast delivered me from mortal danger:
Perhaps thou givest me more time to repent.
Or perhaps thou givest merely,
More time to repent.
Glory to God for all things!
Thou givest me simple pleasures,
Who knew tidying up a besmudged keyboard could be fun?
Whither I go, thou art with me;
Thou preparest a table before family and friends.
"World" refers not to God's creation,
But to our collections of passions,
Seeing through a glass, darkly,
What bathes in the light of Heaven:
Hell is a state of mind,
But Heaven is reality itself.
I am perhaps not worthy of praise,
To say such things in middle-class comfort.
I seek monasticism, to be a novice,
Which is meant to be exile,
Yet an abbot's work,
Is to help me reach freedom from my passions,
And what true joy I have in luxury,
Only know further in monastic exile.
Years I have waited:
Now I am willing to wait years more.
Only if I may pursue repentance,
On such terms as it is offered me.
Glory to God who has allowed me such luxury!
Glory to God who has allowed me such honors!
Glory to God who has shown me that these avail nothing,
And seek the true fame,
Fame before God himself!
Be thou glorified, O God, in me,
Though I know nothing,
Though I am nothing,
Be none the less glorified in me.
The Infinite can do the Infinite in the finite:
Be thou therefore glorified and praised in me,
Though I am nothing before thee,
Yet thou grantest me breath and life,
Joy,
And ever offerest me salvation.
Glory be to God on high!
Glory be to God for Paradise!
Which Paradise is in all things!
Glory to God for all things!
Amen.