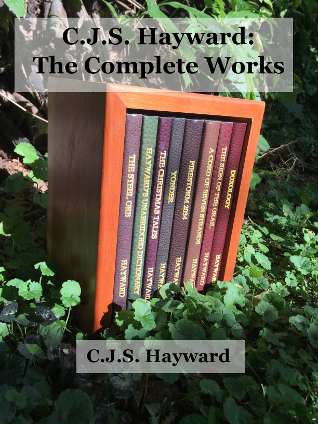 I am presently attending a Russian Orthodox Church Outside of Russia archdiocesan seminary, and one of the perks is that I am getting to meet Fr. Seraphim of Plantina and see some of why he is respected.
Fr. Seraphim, The Place of Blessed Augustine in the Orthodox Church does not downplay at least some of the concerns I've had about the Blessed Augustine. I've heard Orthodox complaints in the past that when Evangelicals say "I've been reading the Fathers," it usually means "I've been reading Augustine and no one else," and my last real comment on the matter was that Blessed Augustine was a Church Father the way Evangelicals would imagine a Church Father: a philosopher whose subject matter was God and who heavily quoted Scripture. Fr. Seraphim acknowledges Blessed Augustine's overreliance on reason, but suggests that balanced such concerns with a suggestion that Orthodox view him as a Church Father, if not necessarily of the first rank. His overuse of reason is seen as a liability; but it is apparently not seen as the end of the world.
(I'm not completely sure what to do with the book's claim that an Ecumenical Council placed Blessed Augustine as equal to the Three Heirarchs except maybe as an exuberant tangent spun off a Council's long list of Church Fathers that included the Three Heirarchs, Blessed Augustine, and many more. However, this is not my main focus.)
To cite the preface to Fr. Seraphim's title: "When I made a disapproving facial expression and stated that the Church does not give him the full title of "Saint" but only calls him "Blessed," he replied, 'Show me another Father who speaks stronger than Augustine on repentance.'"
My most immediate response is, "I don't know about the Greek Fathers, but I've written more about repentance." I invite you to read my chief work on the topic, Repentance, Heaven's Best-Kept Secret. The Orthodox Church speaks in her liturgy about "hope in repentance," and repentance is something joyful that reaches well beyond what remorse even dreams of. A Protestant framing of repentance is to speak of it as unconditional surrender; Orthodoxy does not deny this but reaches further to compare repentance to awakening. There are more than glimmers of this in Augustine, but the most vivid quotes in Augustine's Confessions look on evil with a horrid fascination. Things of goodness, sweetness in the Lord, are mentioned joyfully. However, there is nothing like this horrid fascination that has in regard to good things the forceful underscoring and unpacking that Blessed Augustine has for his sins. And really, evil cannot be as evil as good is good. I wrote of repentance about being blindsided by reward, to unpack one aspect of repentance. The goodness of repentance has much more to unpack than the evil of sin, and if there is anything wrong with Repentance, Heaven's Best-Kept Secret, it is how far it falls short of properly unpacking what a good thing and a blessing repentance is.
The process of repentance is an unconditional surrender to something you think you absolutely must have (the Philokalia says, "People hold on to sin because they think it adorns them), and when you surrender, if you surrender, you have lost nothing but a shackle, and you realize that you need a hole in your head like you needed that sin. You are blindsided by reward, and you realize that you were clinging to what was in fact a piece of Hell. However, the main focus is not on how horrible that piece of Hell was. It is, as my priest put it, that you have been clogged and in repentance you get unclogged, having a new freedom you had not even dreamed of. And, really, there are more things in repentance than are even dreamed of in our prior immediate mindset.
With all that stated, I would like to quote some of the most heavily underlined quotes in Fr. Seraphim's copy of Blessed Augustine's Confessions:
I disobeyed, not from a better choice, but from love of play, loving the pride of victory in my contests, and to have my ears tickled with lying fables, that they might itch the more, for the show and games of my elders.

I lusted to thieve, and did it, compelled by no hunger, no poverty, but through a cloyedness of well-doing, and a pamperedness of iniquity. For I stole that, of which I had enough, and much better. Nor cared I to enjoy what I stole, but I joyed in the theft and sin itself.

Fair were those pears, but not them did my wretched soul desire; for I had store of better, and those I gathered, I flung them away, my pnly feast being my own sin, which I was pleased to enjoy. For if aught of those pears came within my mouth, what sweetened it was the sin.
These are the kind of quotes that put the "Augustine" in "Augustinian," and remorse gets more fascination than repentance.
When I was received into the Orthodox Church, I thought it was best to confess my sins vividly to help me in my remorse. Admittedly, I know that sins of lust and anger are not to be confessed in great detail lest the penitent reawaken the sin. But in fact what is preferred is to state your sins briefly, and I do not think that this is in the first instance either because of logistics or efficiency on the one hand, or on the other hand tied to what a fellow parishioner commented that you should just state the sin, because the further you go in detail the more likely you will be accusing yourself. While I don't want to slight joyful compunction, the goal of repentance is not to stay in remorse. The goal is simply to wake up and be freed from your infirmity.
Remorse in itself does not save. Judas was remorseful, and hanged himself. Repentance would be turn to Christ and wash his feet with his tears. And Judas did not do that.
Seeing this book helped me understand why Augustine has repented, and it takes some guts to defend perhaps one of the most vilified of the Fathers of the Church. Or at least a contrarian mind. And some of the things I find questionable in Augustine seem to have some resonance with Fr. Seraphim.
Remorse is not repentance. Repentance vastly eclipses remorse, and it draws one's eyes towards what Fr. Tom Hopko advised in, "Focus exclusively on God and light, and never on darkness, temptation and sin." Part of repentance leaves one realizing, "I was holding onto a piece of Hell!"—but that is not what fascinates a mind beholding the beauty of God and Light.