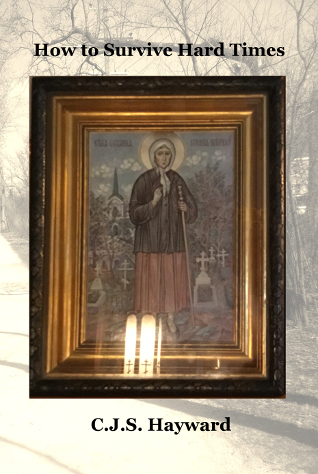 In the time of life,
Prepare for death.
Dost thou love life?
Be thou of death ever mindful,
For the remembrance of death,
Better befits thee,
Than closing fast thine eyes,
That the snares before thee may vanish.
All of us are dying,
Each day, every hour, each moment,
Of death the varied microcosm,
The freedom given us as men,
To make a decision eternal,
The decision we build and make,
In each microcosm of eternity,
Until one day cometh our passing,
And what is now fluid,
Forever fixed will be made,
When we will trample down death by death,
Crying out from life to death,
O Death, where is thy victory?
O Grave, where is thy sting?
So even death and the grave,
Claim us to their defeat,
Or else,
After a lifetime building the ramp,
Having made earth infernal,
Closing bit by bit the gates of Hell,
Bolting and barring them from the inside,
We seal our decision,
Not strong enough to die rightly in life,
We sink to death in death,
Sealing ourselves twice dead.
Choosest thou this day,
Which thou shalt abide.
Seekest thou a mighty deed,
Our broken world to straighten out?
Seek it not! Knowest thou not,
That the accursed axe ever wielded in the West,
To transform society, with a program to improve,
Is a wicked axe, ever damned,
And hath a subtle backswing, and most grievous?
Wittest thou not that to heal in such manner,
Is like to bearing the sword,
To smite a dead man to life therewith?
Know rather the time-honeyed words,
True and healthgiving when first spoken,
Beyond lifesaving in our own time:
Save thyself,
And ten thousand around thee shall be saved.
We meet death in microcosm,
In the circumstances of our lives and the smallest decisions,
The decision, when our desire is cut off,
In anger to abide, or to be unperturbed.
Politeness to show to others, little things,
A rhythm of prayer to build up,
Brick by brick, even breath by breath,
Our mind to have on the things of Heaven or on earth,
A heart's answer of love and submission,
To hold when the Vinedresser takes knife to prune,
The Physician takes scalpel to ransack our wounds,
With our leave, to build us up,
Or to take the gold,
The price of our edification,
And buy demolition in its stead.
Right poetic and wondrous it may sound right now,
Right poetic and wondrous it is in its heart,
But it cometh almost in disguise,
From a God who wishes our humility never to bruise,
To give us better than we know to ask,
And until we see with the eyes of faith,
Our humble God allows it to seem certain,
That he has things wrong,
That we are not in the right circumstances for his work,
When his greatest work is hid from our eyes,
Our virtue not to crush,
Knowing that we are dust,
And not crushing our frame dust to return.
Right frail are we,
And only our Maker knows the right path,
That we may shine with his Glory.
Canst thou not save thyself even?
Perchance thou mayest save another.
Be without fear, and of good cheer:
He saved others, himself he cannot save,
Is but one name of Heaven.
Canst not save thyself?
Travail to save another.
Can God only save in luxury?
Can God only save when we have our way?
Rather, see God his mighty arm outstretched in disaster,
Rather, see glory unfurl in suffering.
Suffering is not what man was made for,
But bitter medicine is better,
And to suffer rightly is lifegiving,
And to suffer unjustly has the Treasure of Heaven inside,
Whilst comfort and ease sees few reach salvation:
Be thou plucked from a wide and broad path?
Set instead on a way strait and narrow?
Give thanks for God savest thee:
Taking from thee what thou desirest,
Giving ever more than thou needest,
That thou mightest ever awaken,
To greater and grander and more wondrous still:
For the gate of Heaven appears narrow, even paltry,
And opens to an expanse vast beyond all imagining,
And the gate of Hell is how we imagine grandeur,
But one finds the belly of the Wyrm constricting ever tighter.
Now whilst the noose about our necks,
Tightens one and all,
Painful blows of the Creator's chisel stern and severe,
Not in our day, nor for all is it told,
That the Emperor hears the words,
In this sign conquer,
The Church established,
Persecutions come to an end,
And men of valor seeking in monastery and hermitage,
Saving tribulations their souls to keep,
The complaint sounded,
Easy times rob the Church of her saints,
Not in our day does this happen:
For the noose is about our necks,
More than luxury is stripped away;
A Church waxen fat and flabby from easy living,
Must needs be sharpened to a fighting trim,
Chrismated as one returning to Orthodoxy,
Anointed with sacred oil for the athlete,
And myrrh for the bride.
And as Christian is given gifts of royal hue,
Gold, frankincense, and myrrh:
Gold for kingship,
Frankincense for divinity,
Myrrh for anointing the dead,
A trinity of gifts which are homoousios: one,
Gold and frankincense which only a fool seeks without myrrh,
Myrrh of pain, suffering, and death,
Myrrh which befits a sacrifice,
Myrrh which pours forth gold and frankincense.
And as the noose tightens about our neck,
As all but God is taken from us,
And some would wish to take God himself,
The chisel will not wield the Creator,
The arm of providence so deftly hid in easy times,
Is bared in might in hard times,
And if those of us who thought we would die in peace,
Find that suffering and martyrdom are possible,
We must respond as is meet and right:
Glory to God in all things!
Be thou ever sober in the silence of thine heart:
Be mindful of death, and let this mindfulness be sober.
Wittest thou not the hour of thy death:
Wete thou well that it be sooner than thou canst know.
Put thy house in order, each day,
Peradventure this very night thy soul will be required of thee.
Be thou prepared,
For the hour cometh like a thief in the night,
When thou wilt be summoned before Christ's dread judgment seat.
If thou wilt not to drown,
Say thou not, I can learn to swim tomorrow,
For the procrastinator's tomorrow never cometh,
Only todays, to use right or wrong.
If thou wilt not to drown,
Learn, however imperfectly, to swim today,
A little better, if thou canst:
Be thou sober and learn to swim,
For all of our boats will sink,
And as we have practiced diligently or neglected the summons,
So will we each sink, or each swim,
When thy boat is asink, the time for lessons is gone.
For contemplation made were we.
Unseen warfare exists because contemplation does not.
Yet each death thou diest well,
A speck of tarnish besmircheth the mirror no more,
The garden of tearful supplication ever healeth,
What was lost in the garden of delights:
Ever banished our race may be from the garden of delights:
'Til we find its full stature in vale of tears,
'Til we find what in death God hath hid,
'Til each microcosm of death given by day to day,
Is where we seek Heaven's gate, ever opening wide.
The Lord shepherdeth me even now,
And nothing shall be wanting:
There shall be lack of nothing thou shalt need,
In a place of verdure, a place of rest, where the righteous dwell,
Hath he set my tabernacle today,
He hath nourished me by the waters of rest,
Yea, even baptism into Christ's lifegiving death.
My soul hath he restored from the works of death,
He hath led me in the paths of righteousness,
That his name be hallowed.
Yea though my lifelong walk be through the valley of the shadow of death,
I will fear no evils;
Thy rod and thy staff themselves have comforted me:
Thy staff, a shepherd's crook,
A hook of comfort to restore a sheep gone astray,
Thy rod a glaive, a stern mace,
The weapon of an armed Lord and Saviour protecting,
Guarding the flock amidst ravening wolves and lions,
Rod and staff both held by a stern and merciful Lord.
Thou preparest before me table fellowship,
In the midst of all them that afflict me:
Both visible and invisible, external and internal.
Thou hast anointed me with oil,
My head with the oil of gladness,
And thy chalice gives the most excellent cheer.
Thy mercy upon me, a sinner, shall follow me,
All my days of eternal life even on earth,
And my shared dwelling shall be in the house of the Lord,
Unto the greatest of days.
Death may be stronger than mortal men, yet:
Love is stronger than death.
Want a good dose of clear thinking about the spiritual side of surviving in a world with coronavirus and COVID-19? Read more of How to Survive Hard Times!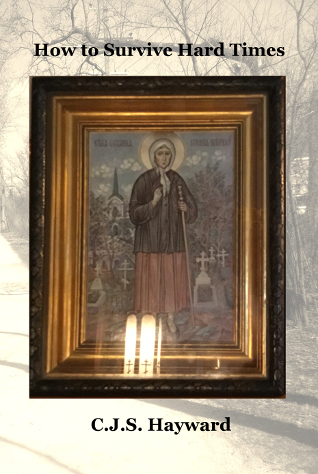 We stand in an arena, the great coliseum. For it is the apostles who were sent forth last, as if men condemned to die, made a spectacle unto the world, to angels and men.
St. Job was made like unto a champion waging war against Satan, on God's behalf. He lost everything and remained God-fearing, standing as the saint who vindicated God.
We are told as we read the trials in the Book of Job that Satan stands slandering God's saints day and night and said God had no saint worthy of temptation. And the Lord God Almighty allowed Satan to tempt St. Job.
We are told this, but in the end of the Scripture, even when St. Job's losses are repaid double, St. Job never hears. He never knows that he stands in the cosmic coliseum, as a champion on God's behalf. Never on earth does St. Job know the reason for the catastrophes that befell him.
St. Job, buffeted and bewildered, could see no rhyme or reason in what befell him. Yet even the plagues of Satan were woven into the plans of the Lord God who never once stopped working all things to good for this saint, and to the saint who remained faithful, the plagues of Satan are woven into the diadem of royal priesthood crowning God's saints.
Everything that comes to us is either a blessing from God or a temptation which God has allowed for our strengthening. The plagues by which Satan visited St. Job are the very means themselves by which God glorified his faithful saint.
Do not look for God in some other set of circumstances. Look for him in the very circumstances you are in. If you look at some of your circumstances and say, "God could not have allowed that!", you are not rightly accepting the Lord's work in the circumstances he has chosen to work his glory.
You are in the arena; God has given you weapons and armor by which to fight. A poor warrior indeed blames the weapons God has armed him with.
Fight therefore, before angels and men. The circumstances of your life are not inadequate, whether through God lacking authority, or wisdom, or love. The very sword blows of Satan glancing off shield and armor are ordained in God's good providence to burnish tarnishment and banish rust.
The Almighty laughs Satan to scorn. St. Job, faithful when he was stricken, unmasked the feeble audacity of the demons.
God gives ordinary providence for easy times, and extraordinary providence for hard times.
If times turn hard for men, and much harder for God's servants, know that this is ordained by God. Do not suppose God's providence came when you were young but not now.
What in your life do you wish were gone so you could be where you should be? When you look for God to train you in those very circumstances, that is the beginning of victory. That is already a victory won.
Look in every circumstance for the Lord to train you. The dressing of wounds after struggle is part of training, and so is live combat.
The feeble audacity of the demons gives every appearance of power, but the appearance deceives.
Nothing but your sins can wound you so that you are down. And even our sins are taken into the work of the Almighty if we repent.
When some trial comes to you, and you thank God, that is itself a victory.
Look for God's work here and now. If you will not let God work with you here and now, God will not fulfill all of your daydreams and then begin working with you; he will ask you to let him train you in the here and now.
Do you find yourself in a painfully rough situation? Then what can you do to lighten others' burdens? Instead of asking, "Why me?", ask, "Why not me?"
An abbot asked a suffering monk if he wanted the abbot to pray that his suffering be taken away. The disciple said, "No," and his master said, "You will outstrip me."
It is not a contradiction to say that both God has designs for us, and we are under the pressure of trials. Diamonds are only made through pressure.
No disciple is greater than his master. Should we expect to be above sufferings when the Son of God was made perfect through suffering?
Anger is a spiritual disease. We choose the path of illness all the more easily when we do not recognize that God seeks to train us in the situation we are in, not the situation we wish we were in.
It is easier not to be angry when we recognize that God knows what he is doing in the situations he allows us to be in. The situation may be temptation and trial, but was God impotent, unwise, or unloving in how he handled St. Job?
We do not live in the best of all possible worlds by any means. We live instead in a world governed by the best of all possible Gods. And that is the greater blessing.
Some very holy men no longer struggle spiritually because spiritual struggle has worked out completely. But for the rest of us, struggle is a normal state. It is a problem for you or I to pass Lent without struggle. If we struggle and stumble and fall, that is good news. All the better if we cannot see how the thrusts and blows of the enemy's sword burnish away a little rust, one imperceptible speck at a time.
Do you ask, "Did it have to hurt that much?" When I have asked that question, I have not found a better answer than, "I do not understand," and furthermore, "Do I understand better than God?"
We seek happiness on terms that make success and happiness utterly impossible. God destroys our plans so that we might have the true happiness that is blessedness.
Have a good struggle.
There is no road to blessedness but the royal road of affliction that befits God's sons. Consider it pure joy when you fall into different trials and temptations. If you have trouble seeing why, read the Book of James.
Treasures on earth fail. Treasures in Heaven are more practical.
Rejoice and dance for joy when men slander you and revile you and curse you for what good you do. This is a sign you are on the royal road; this is how the world heralds prophets and sons of God. This earthly dishonor is the seal of Heavenly honor.
If you have hard memories, they too are a part of the arena. Forgive and learn to thank God for painful memories.
Remember that you will die, and live in preparation for that moment. There is much more life in mindfully dying each day than in heedlessly banishing from your mind the reality. Live as men condemned to die, made a spectacle before men and angels.
Live your life out of prayer.
It takes a lifetime of faith to trust that God always answers prayers: he answers either "Yes, here is what you asked," or "No, here is something better." And to do so honestly can come from the struggle of praying your heart out and wondering why God seemed to give no answer and make no improvements to your and others' pain.
In the Bible, David slew Goliath. In our lives, David sometimes prevails against Goliath, but often not. Which is from God? Both.
Struggling for the greater good is a process of at once trying to master, and to get oneself out of the way. Struggle hard enough to cooperate with God when he rips apart your ways of struggling to reach the good.
Hurting? What can you do to help others?
Want a good dose of clear thinking about the spiritual side of surviving in a world with coronavirus and COVID-19? Read more of How to Survive Hard Times!
This life is an apprenticeship. You do not understand its purpose until you understand that we are created to be apprentice gods.
It is said, a man knows the meaning of life when he plants a tree knowing he will never live to sit in its shade. Truer is to say that a man knows the meaning of life when he plants a tree not seeing how he will ever this side of Heaven sit in its shade.
You do not understand life in the womb until you understand what is after the womb. For some actions in the womb bear fruit in the womb, but suckling and kicking are made to strengthen muscles for nursing and walking, and nursing a preparation for the solid food of men.
You shall surely die: such Adam and Eve were warned, such Adam and Eve were cursed, and such the saints are blessed. For death itself is made an entryway for life. But we can only repent in this life: after this life our eternal choice of Life or Death is sealed.
Do not despise moral, that is to say eternal, victories. Have you labored to do something great, only to find it all undone? Take courage. God is working with you to wreak triumph. From his eternal providence he is working, if you will be his co-worker, in synergy, to make with you something greater than you could possibly imagine, a treasure in Heaven which you never could imagine to be able to covet.
The purpose of life may be called as an apprenticeship to become divine. The divine became man that man might become divine. The Scriptures oft speak of the sons of God, and of men's participation in the nature divine. This divinisation begins on earth and reaches its full stature, when the Church triumphant and whole becomes the Church of saints who have become what in God they were trying to become. And we are summoned to that door.
Were sportsmanship to be found only in a foreign culture, we would find it exotic. Play your best, seek to win a well-played game, but have dispassion enough to be graceful in winning and losing alike. But one of its hidden gems is that most often a team that has to win will be defeated by a team that only tries to give it their best.
But sportsmanship is not just for sports. Hard times are encroaching and are already here: but we are summoned, not to win, but to play our best. Hence St. Paul, at the end of a life of as much earthly triumph as any saints, spoke as a true sportsman: he said not, "I have triumphed," but that he had been faithful: I have fought a good fight, I have finished my [race]course, I have kept the faith. This from a saint who enjoyed greater earthly accomplishments than his very Lord.
It is said that there are three ranks among the disciples: slaves who obey God out of fear, hirelings who obey God out of the desire for reward, and sons who obey God out of love. It has also been said that we owe more to Hell than to Heaven, for more people come to the truth from fear of Hell than the desire for the rewards in Heaven. But if you want a way out of Hell, seek to desire the incomparably greater reward in Heaven; if you seek reward in Heaven, come to obey God out of love, for love of God transcends even rewards in Heaven.
It is said, Doth thou love life? Then do not waste time, for time is the stuff life's made of. It might be said, Seekest thou to love? Then do not shun ascesis and discipleship, for they are the stuff love is made of. Or they a refining fire that purges all that is not silver and gold. Our deifying apprenticeship takes place through ascesis and being disciples.
Two thoughts are to be banished: I am a saint, and I shall be damned. Instead think these two thoughts: I am a great sinner, and God is merciful. Because strait is the gate, and narrow is the way, which leadeth unto life, and few there be that find it. You have not met Christ's dread judgment throne yet: seek each day to pursue more righteousness.
The sum of our status as apprentice gods is this: Love men as made in the image of God, and work in time as the womb of eternity. Fulfill your apprenticeship with discipleship as best you are able. And follow God's lead in the great Dance, cooperating in synergy with his will. And know that lo, I am with you alway, even unto the end of the world. Amen.