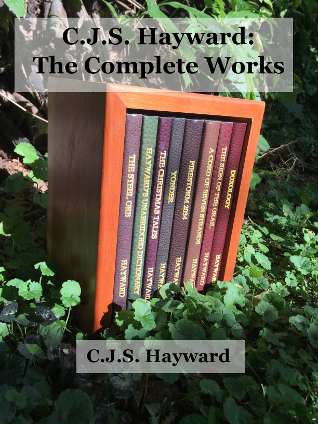 A visitor contacted me and wrote:
Dear Mr. Hayward,

I just purchased the Classic Orthodox Bible on Amazon because I am an Orthodox Christian and I prefer the King James version. With utmost and profound respect, I desire peace of mind with this Bible and ask you two things please. You are listed as the editor. I am confused and would like to know why this version needs/needed editing and who are you in regards to editing the Holy Bible? Please understand my question is not a personal attack or judgement upon you; I am only trying to learn about this (editor) as I read it... deep areas of concern for me and your answers will absolutely help. I am deeply and sincerely grateful for your time to help.
That's a question that other people may have, too.
I answered:
This is one of the kindest emails I have received in a while, and I thank you for it.

To give one example about what changes I have made (others are more messy), the King James Version of the Bible does not include modern-style quotation marks, and has one paragraph per verse. For instance, Mark 1:1-3 among many examples, reads in the KJV:

1 The beginning of the gospel of Jesus Christ, the Son of God;

2 As it is written in the prophets, Behold, I send my messenger before thy face, which shall prepare thy way before thee.

3 The voice of one crying in the wilderness, Prepare ye the way of the Lord, make his paths straight.

In the Classic Orthodox Bible, quotation marks are added:

John: Forerunner of Christ
Mark 1 The beginning of the Gospel of Jesus Christ, the Son of God; 2 as it is written in the prophets,

"Behold, I send My Messenger before Thy face,
Which shall prepare Thy way before Thee.
3 The voice of one crying in the wilderness,
'Prepare ye the way of the Lord,
Make His paths straight.'"

Now not a word of the Biblical text has changed beyond capitalization, as is often the case, but there is a difference.

A very careful reader reading the King James version might notice that the 'B' in 'Behold' and 'P' in 'Prepare' are capitalized, and in fact the King James follows such capitalization when most quotations begin. Nonetheless, it is clearer to the modern reader when quotes begin and end, and it is clearer where there is a nested quote, and for that matter clearer by the italics that this is the New Testament quoting the Old Testament.

Other examples are described at ClassicOrthodoxBible.com. Theosis is in the New Testament texts, but it is treated insensitively by Western translators that I know of. The 'S' is always capitalized when speaking of "the Son of God," but never when it discusses "sons of God," for instance, and even C.S. Lewis did better in his Mere Christianity echoing the Greek Fathers: "The Son of God became a man that men might become the Sons of God." I have never seen this in English translation.

In the Sermon on the Mount, there is one text which has two basic translations, a double meaning being present in the Greek. One version is, "Which of you by worrying can add a single hour to your span of life?" The other version is, "Which of you by worrying can add a single cubit (the cubit is a basic unit of measurement) to his height?" and one of these, not always the same one, gets translated out. But in fact there is value in the double meaning, and I render it roughly as, "Do you think that by worrying you can add a single hour to your span of life? You might as well try to worry your way into being a foot taller!" The payload of the remark is that we might think we can add a lot to our lifespan, but in fact trying to add a single hour to our life is as futile as trying to worry your way into being a foot (and a half, if you want to be specific), taller.

Now regarding your other question as to who I am to be working on it. I am an Orthodox Christian who has told two spiritual fathers "I think I should back away from this, at least until I can grow some more," and had two spiritual fathers say "I want you working on this today." That is the only serious credential I can claim.

My present spiritual father has said that the changes I mentioned, such as having different font sizes for different areas of text (the Gospels are in the largest font size), aren't earth shaking and he asked me to work with him on this. So I am continuing.

Now if you'd like to know more about me, you might read my autobiography on Amazon; I would be truly grateful for any review, positive or negative, as long as it is seeking edification. But my credential is obedience in spiritual direction.
I am grateful for the permission I received to quote the question anonymously as this is a question others may have as well.