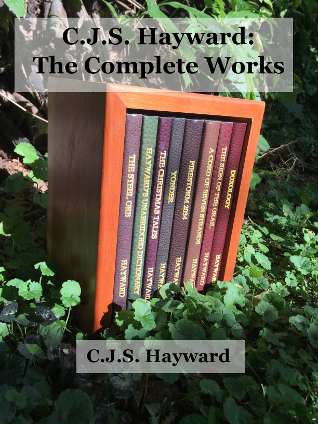 Christos
---
Classes and Levels:
Stats and Basic Info:
Race/Template: Human
Gender: Male
Alignment: Lawful Good
Religion / Patron Deity: Orthodox Christian
STR: 12
DEX: 10
CON: 8
INT: 18
WIS: 16
CHA: 8
Hit Points: 76
BAB: +8
Fortitude: 11
Reflex: 13
Will: 22
Possessions on person:
Woodland colored clothing.
Swiss Army Knife toolchest.
Watch, 200 meter water resistant, with compass, barometer/altimeter, self-charging.
Steel toed combat boots.
Leather duster.
Portable computer that is designed for outdoor use in inclement weather and can run any operating system he wants and any programming language he wants.
Feats
Ambidexterity
Craft Wondrous Software
Craft Wondrous Writing
Dodge
Improved Unarmed Strike
Toughness
Weapon Specialization, Crossbow
Skills
Balance: 15
Climb: 18
Concentration: 18
Decipher Script: 19
Disguise: 12
Diplomacy: 17
Handle Animal: 14
Heal: 17
Hide: 22
Knowledge Architecture/Engineering: 20, Geography 20, History 20, Nature 20, Nobility/Royalty 20, Religion 35, Literature: 20
Languages: English 22, French 21, Spanish 20, Italian 19, Latin 19, Greek 19, Python 24, HTML5 22, CSS3 21, JavaScript: 23
Listen: 17
Move Silently: 22
Perform: Keyboard 10, Oratory 15
Profession: Author 20, Developer 20
Ride: 11
Swim: 14
Tumble: 11
Use Rope: 12
Description
Christos Jonathan Seth Hayward is not a druid.
He lays claim to none of druidic spells, nor any of the druidic special abilities, and that he lays claim to a few of a Woodsman's skills and even some of a druid's auxiliary skills, is really beside the point.
But to state that much and stop is to paint a deceptive picture, almost to give a confusion of ideas that prevents truth from being seen. Christos does not worship nature, even if he does worship the Lord of Nature hymned in Hymn to the Creator of Heaven and Earth, but he is pursuing a deeper root of harmony with nature than is to be found by nature worship.
We read in the Player's Handbook:
The fury of a storm, the gentle strength of the morning sun, the cunning of a fox, the power of a bear—all these and more are at the druid's command. That, she claims, is the empty boast of a city dweller. The druid, however, claims no mastery over nature. The druid gains her power not by ruling nature but being one with it. To trespassers in a druid's sacred grove, to those who feel the druid's wrath, the distinction is overly fine.
"The distinction is overly fine." Christos wrote "Physics," or a discussion of the nature of things, and his Tradition (not him personally, but men who are to him brothers) create monastics who are not harmed by wild animals, and who can approach and be approached by animals that are ordinarily afraid of humans—and this is not an exceptional feat. Even now he does well with children and animals, talking away the pain of a little girl's smashed thumb or spending twenty minutes with a dog nervous about men and after that one session leaving the dog bounding to meet the other men in a group. Druids avoid carrying excessive amounts of worked metal, and such a character alive today would be very wary of spending excessive amounts of time in front of a computer screen, even without the issue of soul-destroying porn. And on the point of long amounts of time staring at a computer, phone, or tablet screen, Christos has shown that with a very light touch Plato's "Allegory of the Cave" of life once removed from ultimate reality becomes The Allegory of the... Flickering Screen? of life twice removed from ultimate reality.
He brings qualifiers; there is something of wakeup call in Exotic golden ages and restoring harmony with nature, and his Technonomicon: Technology, Nature, Ascesis both explores harmony with nature and sets it on a deeper base, that of questing for the virtues.
We read again:
Druids, in keeping with nature's ultimate indifference, must maintain some measure of dispassion. As such, they must be neutral in some way, if not true neutral. Just as nature encompasses dichotomies of life and death, beauty and horror, peace and violence, so two druids can manifest different or even opposite alignments (neutral good and neutral evil, for instance) and still be the part of the druidic tradition.
Dispassion, or apatheia (Greek απαθεια, not to be confused with "apathy") is a central tenet of his Tradition, but it is set upon a deeper base: apatheia may be compared to commanding the helm of a ship and keeping it on its course when the winds of passion, trial, and temptation would have it blown off course or capsized. This is close to the heart of being Lawful Good; The Ladder of Divine Ascent places apatheia at the height of the Ladder's peak, second only to faith, hope, and love as the highest height of its peak. It is less true that this dispassion is Lawful Good as that Lawful Good emanates from this dispassion.
One last quote:
...druids are part of a society that spans the land, ignoring political borders... still, all druids recognize each other as brothers and sisters.
In the visible Orthodox Church (not invisible), Orthodox Christians are brothers and sisters, all sons of the same God. To quote a saying that has rumbled down through the ages:
"The Son of God became a Man that men might become the Sons of God."—"The Divine became Human that the Human might become Divine."—"God and the Son of God became Man and the Son of Man that men might become gods and the sons of God."
Christos seeks deification, not through the demigod status of a 21 ECL, but as something offered to the humble and available at any level, here and now.
And he is fond of the Desert Fathers, among many others:
A brother asked one of the elders: What good thing shall I do, and have life thereby? The old man replied: God alone knows what is good. However, I have heard it said that someone inquired of Father Abbot Nisteros the great, the friend of Abbot Anthony, asking: What good work shall I do? And that he replied: Not all works are alike. For Scripture says that Abraham was hospitable, and God was with him. Elias loved solitary prayer, and God was with him. And David was humble, and God was with him. Therefore, whatever you see your soul to desire according to God, do that thing, and you shall keep your heart safe.
In the ancient world, Jews embraced Holy Orthodoxy because they found it the fulfillment of Judaism, and pagans embraced Holy Orthodoxy and scarcely less found it the fulfillment of paganism: the heights of pagan philosophy, such as Platonic and Stoic, were well retained. And perhaps it is that in Holy Orthodoxy has found the fulfillment of druidry: at least, when he is deepened far enough, Merlin becomes Christ.
In the broad field a life oriented to contemplation, and on a practical level, as he was called by one boss, "Jack of all trades and master of many."
A quote:
[Other name changed]
Christos [Puts hand on the shoulder of the father of teenage Adam]: "Adam hurt my feelings."
Adam [confused]: "How did I do that?"
Christos: "Fess up, Adam, and then we'll both know."