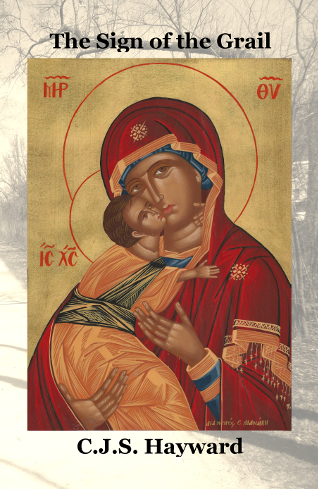 The Archdruid of Canterbury appeared as head of a delegation to His Holiness THOMAS, Patriarch of Xanadu.
The Archdruid bore solemn greetings and ecumenical best wishes. He presented gifts, including an oak and holly icon, portraying St. Francis of Assisi as the pioneer of "I-Thou" existentialism. The icon was "not made by hands" ("all done by paw," in the memorable words of Paddington Bear).
The Druidic leader spoke of the Orthodox Church with the most solemn reverence. "The Orthodox Church is not only Oriental and exotic, but has the most hauntingly beautiful liturgy achieves has what we are trying to engineer in our liturgical reform, and the Orthodox Church would make the perfect partner for the most dynamic and progressive forces that keep the C of E a living spiritual power in this world. St. Alban and St. Sergius are Anglican saints, but they are first and foremost Orthodox saints, and are only Anglican saints because they are Orthodox saints. I have personally blended the most excellent traditions of Druidic Bard and occupant of the See of Canterbury. We would be most deeply honoured if the existing profound (if invisible) bond uniting Orthodox, Anglican, and Druid were made explicit."
After the Druid spoke for an hour, he paused in thought a moment, turned to His Holiness THOMAS and said, "But I fear I have done too much talking, while you have said nothing. Isn't there anything you'd like to say? Don't you have questions we could speak to?"
The Patriarch coughed, sat in silence for a moment, and began to squirm. "Have you considered pursuing ecumenical relations with the African majority in your own communion? I've dealt with some of them and they're really quite solid people, with good heads on their shoulders."
The Archdruid made no reply.