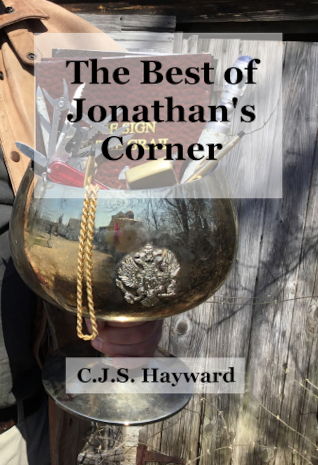 I would like to talk about a religious experience. I use the term 'religious experience' with some caution as it is not what is usually called a religious experience. It did not include any dreams, or visions, or insights out of nowhere; intuition was present but did not help. But it was in the fullest sense a religious experience, at least as much as any semblance of vision or ecstasy that I've had.
I had been sinking into an increasing despair at politics, economics, and what that may mean for me. I was facing the possibility that I may well not die an old man. Furthermore, my jobhunt was slower than usual. And despite the Lord's impressive Providence for me at earlier times and situations in my life, often seemingly miraculous, I was worried that I might eventually be thrown into a situation—possibly a concentration camp—where I might, in Bach's words, "outlive my love for Thee." Do not say, "It could not happen here;" stranger things have happened.
All quite a lot. This past Sunday (29/12/13), I went to the Cathedral, made a miserable confession, participated in the liturgy, and then drove to my favorite Indian restaurant to have a nice meal before going home to return and fight my darkness. On the sidewalk out of the restaurant, I ran into an old friend.
He mentioned another mutual friend he was going to meet, and I went to say hello to both of them before eating by myself: I didn't shun their company, but I didn't want to intrude on their meeting. But they had planned a get-together, and had not invited me only because they did not think of whether I would be in Wheaton. And so I joined them for dinner, in which I thawed in response to a friend's conversation, and one of them picked up the cost of my meal. This was followed by several hours of sheer joy as we went to one of their apartments, and people played games and I enjoyed the company of old friends and two new.
And that was it. The gathering at the apartment dissolved after a couple of hours, and it doesn't look like even half of that group of friends will gather together in the near future. (I asked.) But without words, without any special intuition—the only real intuition I had was while I was driving to the restaurant was that I should turn aside to another place—it was as if God had showed, "I am still sovereign. I can do whatever I want." God can, in a heartbeat, make a job show up. He has not done so yet, in a heartbeat or otherwise. But he can still provide for me, and I am not in despair, but trust.
The rule in childbearing is a few minutes of ecstasy, nine months of carrying, and then two decades of raising children. And in another department, one tastes a meal for half an hour and then digests and acts on it. After that mountaintop experience, to use the Protestant term, I have been voluntarily dislodged from despair, and am off to work: jobhunting instead of a regular job, but off to spiritual work and repenting of my sins. It is the Orthodox understanding that God gives miracles to cover for human weaknesses, and if God gave me a powerful day's experience with friends and good times, that is not a reward for grandeur so much as a crowbar to loosen real problems. And, God willing, a seed planted for me to grow. I do not seek to return to that experience, because, in the words of Lewis inOut of the Silent Planet, "A pleasure is full-grown only as a memory." The latter part of that day was delightful, and I pursue it by doing the work I have after then: first writing the first part of Merlin's Well, then working on publishing it on Amazon, then writing this article, then returning to work on the front end of a web application, all the while searching for my next job.
I have not acted worthily along the way, but I'm looking forward to the next installment.
Read more of The Best of Jonathan's Corner: An Anthology of Orthodox Christian Mystical Theology on Amazon!