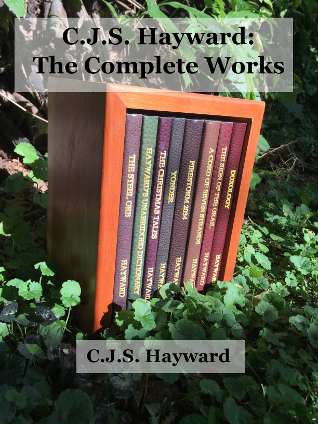 The Labyrinth
What labyrinth is this,
Around and within me?
My God, my God, why have I forsaken Thee?
My God, my God, why have I forsaken Thee?
Why have I fled from Thy help,
And the Word whom Thou hast shouted?
My God, Thou criest out in the fullness of day,
And in season of night, yet there is no silence in me.
But Thou dwellest in a sanctuary:
Even the praises of Israel.
In Thee our fathers hoped,
They hoped, and Thou deliveredst them.
They cried to Thee, and were saved;
They hoped in Thee, and were delivered.
But I am a worm, no more a man,
A reproach to mankind, and of a people despised.
All who see laugh me to scorn,
They speak with their lips,
They shake their heads, saying,
He once trusted in the Lord,
Let Him deliver him,
Let Him save him,
If He still takes pleasure in him.
But Thou art He that drew me from the womb:
My hope from my mother's breasts.
I was cast on Thee from the womb;
Thou wert my God even in my mother's belly.
I stand afar off from Thee;
For I have drawn nigh unto affliction,
Where there are none who shall help.
For bears have encompassed me;
Ravening bears have circled round about me.
They have opened their mouths against me,
As a devouring and roaring dragon,
As a dragon spewing fire and brimstone.
I am poured out like water,
Yea, my very bones are pulled out of place,
My heart is like wax,
Melting away in my bowels.
My strong wealth is dried up like a potsherd,
My tongue never sated in my throat,
I have brought myself down,
To the very dust of death.
For many dogs have compassed me,
The assembly of wicked doers hath beset me round,
They ensnared my deeds and my movement.
They have a count on all my bones,
They observe and look on all I do and say.
They have split among themselves what covered me,
And my raiment perdureth but as perchance.
What is this labyrinth?
What is this I have enmeshed myself in?
For in the Sermon on the Mount,
Hear the Lord the word spake:
No man can serve two masters:
Thou canst not serve God and Mammon.
What reached Mammon in the days of yore?
Ox and ass, a field, a vine,
A house of single room, by single lamp enlightened:
What reaches Mammon in our tangled web?
Lexus and iPhone, or Nokia and Government Motors,
Alike impossible to medieval lord,
And not so different in reality:
Oh what a tangled web we weave,
When we allow branding us to deceive!
Space-conquering tools of train and car,
Dwarfed not by supersonic airplane nor spacecraft,
But by internet communication, and mobile,
Stripped communication bearing not communion,
In the panopticon of NSA forever recorded:
For in the Sermon on the Mount,
Hear the Lord the word spake:
No man can serve two masters:
Thou canst not serve God and Mammon:
When the apex of technology remained,
But the humble workshop of humble artisan,
Mammon's nature was spoken: not servant, but master,
A cruel yoke to shoulder, bear, and live.
But of our labyrinth,
Technology is neither beginning nor end,
Nor properly the center, for it sufficeth not,
To say as of computer games already obsolete,
You are in a maze of twisted Infocom parodies, all alike:
Do not confuse the skin with the heart.
Nor think only of the ancient attack on manhood,
Named porn, for it is not new:
Not new in sepia etching, nor old crumbling book;
Archaeologists dig it up in ancient ruins.
But in decades of yore, yt poison,
Called for a man to sneak into a store,
Hoping no one would see his parked car,
Beside a store of windows all papered;
Behold a new thing:
For now thou needest do no such thing,
It is included in a utility well nigh indispensible,
And thou needest not even seek temptation:
With a good filter, thou wilt receive less,
Of offers that make Hugh Hefner look like Botticelli,
And shouldst thy natural lust not suffice thee,
Thou wilt be told thou needest Viagra.
But call this not the sum of it either:
For SecondLife is called SecondWife,
Not only because thou needest not hear the moralist's protest,
Fornicate using your OWN genitals!
Push this temptation aside, which is not the sole raison d'êatre:
The true raison d'êatre be never new:
The true raison d'êatre was known to desert monks,
Ancient and today,
And by these fathers is called,
Temptation, passion, demon,
Of escaping the world.
SecondLife is the apotheosis,
Nay, the next installment,
Of what came in an earlier installment,
In cinematic movie theatres,
Such as rural American volunteers preserve,
As a piece of history to keep alive for the young,
And moralists said more than that movies can be made lewd,
For they spake of an escape into fantasy,
Whether literal or metaphorical is a smaller question than it might seem:
For fantasy is fiction squared, and in Western history,
Fiction emerged, with abstraction:
Abs-trahere, from Latin,
Meaning pulled back from real things,
And fantasy and science fiction provide a next installment:
If the characters and story be created whole cloth,
Why not unfold a bit further:
Why not the story's world itself?
And this ancient passion of escaping the world,
Of which monks were ever presently warned,
We devise more potent ways to escape,
Where God has placed us,
Whence thou wouldst do well to hear exhortation,
Of disenchanted exiles of SecondLife:
Get a first life!
We have many ways to create our own private world:
With technology or with ancient imagination,
Modern or postmodern in our bent,
Our own private escape from what is around us,
Our own private Hell,
But this need not rule us!
Tis a tangled labyrinth before us,
And whilst we gain,
In learning to use technology,
Not to further our journeys of passion,
But as tools in living life rightly,
The door to life rightly lived,
Is not closed to those who are neither ancient nor rural:
There is a little gain in learning to bear with silence,
Endure hunger, live on less,
As a remedy to covetousness count thy blessings,
Pray through boredom,
Yet here also,
Do not mistake the skin for the heart.
In the labyrinth, there is no hope:
Only infinite possibilities to lose thy way.
But above the labyrinth there is hope.
And Christ is the Door,
Now as much as ever;
Ascesis in the Church is lifegiving,
Now as much as ever,
Unseen warfare can lead us to serene contemplation,
Now as much as ever,
And God is here.
Paradise is wherever the saints are,
And we can find Paradise even with a labyrinth,
That surrounds us,
With no room to escape:
We do not need to escape.
But Thou, O Lord, be not far from me,
O mine every strength, hasten to help me.
Save my soul from the glaive:
My very nature from the power of the dog.
Save me from the dragon's mouth:
For let me learn humility as a unicorn's horn.
I will delare Thy praise to my brethren:
In the midst of the Church I will praise Thee.
You who fear the Lord, praise Him;
All ye seed of Jacob, glorify him;
For He hath not despised nor abhorred,
The affliction of the afflicted:
Neither hath He hidden his face from him,
But when he cried to Him for help, He heard him.
My praise is before thee in the great congregation;
I will pay my vows before them that hold him in holy fear.
The poor shall eat and be satisfied;
And they that seek the Lord shall praise him;
Let their hearts live forever!
All the ends of the earth shall remember and turn to the Lord:
And all the kindreds of the nations shall worship before him.
For the Kingdom is the Lord's,
And he is the Ruler of the nations.
All the prosperous upon the earth shall eat and worship;
All those that go down to the dust shall bow before him:
And my soul eternally lives through him,
My posterity shall serve him;
The Lord will be declared to a generation yet to be born.
They shall declare to a people yet to be formed,
That by the Lord:
It is finished.