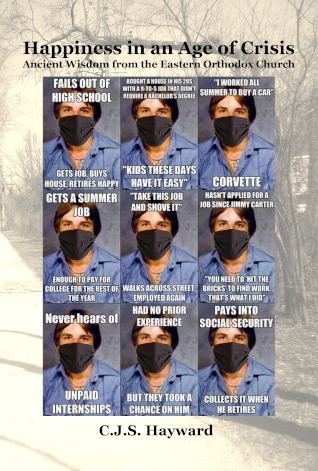 One element I remember from a documentary video at Avery Coonley School was talking about some Native American cultures. They commented that, like Christianity, there was an origins myth in which they were placed in a garden, a Paradise. But unlike Christianity, there was no story of leaving paradise. And yet in Orthodoxy, we insist that Paradise is wherever the saints are. (Paradise can be every bit here and now!)
There are certain ways that this is not an obvious thing to say for Christianity, especially if Hell exists, and great saints are often sanctified through great suffering. However, I wish to say more than I said in God the Spiritual Father, in which I said that we do not live in the best of all possible worlds, but we live in a world governed by the best of all possible Gods, and that makes all the difference.
There is something more to say, but words begin to fail me.
One point where we are in paradise is that every moral injunction, insofar as Orthodox ascesis is moral, is not for God's benefit, but for ours. St. Maximus Confessor describes three grades of sonship: slaves obey God out of fear of punishment, mercenaries obey God for Heavenly reward, but sons obey God out of love. And the Philokalia contains the striking statement that we owe more to Hell than to Heaven, because more people have obeyed God out of the fear of Hell than out of desire for the delights of Paradise. Nonetheless, if the highest growth is to obey God out of love for him, we are the beneficiaries of our obedience and love. We can be saved from Hell by fearing the torments, or we can grow to seek Heaven's rewards, or we can love as the least inadequate kind of response to God, but we do not benefit God. In the best spirit of de-mythologizing, it can be said that God is perfect from all eternity and has never had needs except in the person of your neighbor, and God is fundamentally beyond being made more perfect by our acts or our love, no matter how much we love him. We benefit ourselves the more we obey God out of love for him.
In something of the same sense, ambition, which includes trying to become a bishop, is a sin, but when things are rightly understood, there is a sense in which we cannot overreach and we cannot reach so high as to be guilty of overreaching ambition. Now maybe ecclesiastical office need not be sought after (but I do not condemn honorable seminarians in the world). However, when we talk about what is good for us, about humility, about prayer, about repentance, we cannot reach too far. And humility is a greater thing than the Philosopher's Stone or the Holy Grail, as I just barely graze on in The Treasure of Humility and the Royal Race: in short, it opens your eyes and mine to the godlike beauty with which God has imbued every single human being. Humility transforms everything, or rather it transforms us so that we can be in Paradise anywhere. And monks may be forbidden to seek the lowest of elevations, let alone seek to be the next Ecumenical Patriarch, but there is no degree of the treasure of humility I know of that will bring a confessor's rebuke of "Do you really think such a lofty humility is fitting for someone in your undistinguished rank? Have some more pride like the rest of us!" And humility, in monastics or in the world, is a far greater treasure than any external honor that is to be had. Humility may sometimes be followed by ecclesiastical rank, but the real high estate doesn't wait for ecclesiastical office which may or may not come. The treasure and reward of humility is there, immediately, not just sometime later when authorities decide you are ready to bear a heavier cross and push you out of the nest for a greater service.
I would like to comment, very inadequately, on the monastic vow of wealth. It is said well enough that monastics renounce possessions and Orthodox in the world are to practice generosity and detachment, but he who renounces all possessions ends up with God Himself as pre-eminent among many possessions. The words "Do not store up treasure on earth" are but a shadow to "Store up treasures in Heaven," and monasticism is scarcely more nor less than a community framework for storing up still more treasures in Heaven. The Gospel may censure the man who stores up treasures on earth and tears down his barns to build bigger barns: but in and out of monasticism Orthodox are summoned to reach positions where their barns are not big enough for the treasures in Heaven they have come to possess, and they need to tear down their spiritual barns and build up bigger barns. The Gospel implies nothing positive about the man who has great earthly wealth while considering himself much too poor and wearing himself out to acquire even more wealth, but God's fullest blessings are on the monk who considers himself to have no appreciable treasures in Heaven and lives an insatiable desire to get even more treasures in Heaven. The monk who rejects an earthly endowment of wealth is instead given an incomparable Providence that gives him treasures he didn't know to seek. Royalty have such privilege that they are not to touch money: monasticism takes this treasure to the utmost. The monk has lost two hundred and thirty-nine pounds in one vow: if you want to know true treasure, monks have the greatest treasure of all, in this world in the next. St. Constantine, equal to the apostles and great among princes, told one monk that if he had known what rewards monks have in Heaven, he would have exchanged his royal purple for a monk's robes immediately. Monasticism is a unique realm of privilege in the Church. (And the security provided by merely earthly wealth is an illusion and does not compare to the Providence given to married and monastic who do not put their trust in riches.)
What does monastic work pay for a monastic or pilgrim? The answer "100% below minimum wage" is positively misleading. The coin which monastic work pays in, and is more important to a spiritual father than getting work done, is healing from our passions, and freedom from our sins is a coin which no amount of secular money is worth. As regards what monks receive by their labor, I would appeal to the Song of Songs: Many waters cannot quench love, neither can the floods drown it: if a man would give all the substance of his house for love, it would utterly be contemned.
All this and more is to be said of monasticism, but it is also to be said that monasticism is no more than the rudiments of the Gospel. If you do not have a monastic spiritual father, all that really means is that you have God for a Spiritual Father. Monastics insist that salvation is possible at every time and everywhere, and is offered to all. However spectacular the blessings of monasticism sound, God's blessings are offered everywhere. If you should be a monk, by all means become a monk. But if not, do not believe that the God who created and governs all of Creation cares for monks but does not care for you. Christ died for you, and you are made in the divine image to ascend to the divine likeness whether or not monasticism is your path. God has loved you from everlasting to everlasting, and even your ability to choose between Heaven and Hell is part of the glory he built into you.
Moreover the saints, and we are invited to this, are not dependent on their efforts succeeding. We often think of moral victory like a consolation prize, as a palliative to essential failure, but the saints don't. St. Paul at the end of his life, when he had greater external achievement than almost anyone since, wrote to St. Timothy, "I have fought the good fight. I have run the race. I have kept the faith." St. Paul, saint that he was, seemed to consider his moral victories of being faithful as more worthy of mention than external victories that included planting churches, writing half the books of the New Testament, and healing and even raising the dead. He did not need to be successful, and his gargantuan external successes were never mentioned when he claimed a faithfulness that many others can share. There is a crushing character to needing to succeed, and the example of the saints is liberating. We don't need to succeed, however noble our endeavor may be. We need only pray and be faithful.
We live in a spiritual and visible world, and some say that man, as the recapitulation of the spiritual and visible worlds, as a microcosm of all Creation, is higher than even the angels. And in this world, there are devils and there is evil, but the devils are always and only on a leash. Meanwhile, the Church Triumphant, the Holy Trinity and every saint before, is watching and cheering us as we run the race. The Church has been called a large yet extremely close-knit family, and every saint standing before the throne of God is praying, or is willing to pray, for us.
And the world we live in is real. I am not the only person who has wanted to escape into another world; small literature brings escape from the world while great literature brings engagement with the world. I've wanted to be in Narnia, among other places, and C.S. Lewis says that many kids have their own little world, but for the children, it was real. And this world we are in is itself real. It may not be in its final greatness yet. But it is real and still profoundly great, and after one spiritual adventure I came to realize that being in communion with Christ, I was in a certain sense in communion with all Creation, with the stars in the sky and the starfish in the sea, and insofar as the human person is constituted in the image of the Trinity, I was more in communion with the heretics than they were with themselves. I am not sure this is officially endorsed language; but I do know that I reached the brink of death and Hell, and my salvation consisted in rejecting a passion of alienation with Creation, and that I am in fact in communion with the Orthodox Church, in communion with God, and in communion with Creation.
Even suffering has meaning. Before I became Orthodox, as a Protestant I said that Purgatory seemed to be a spiritual reality present on earth, whether or not it was a place after death. Now Orthodoxy has been clear in not preaching that some must pass through Purgatory to reach Heaven: but we share in the sufferings of Christ, and spiritual giants suffer more. Part of this is "No servant is greater than his master," but suffering in our lives is neither random nor meaningless. Marriage and monasticism are both intended to be a crown of thorns to help us grow up; and unlike the world assumed by certain Church Fathers, we live in a world where blessed marriage is almost as much an exceptional holy light as monasticism, and it should be recognized both that marriage and monasticism serve the same goal of self-transcendence, and are different positions on one and the same team.
In The Orthodox Church, Vladyka KALLISTOS compares Christians today to the Early Church in terms of what society Christians are surrounded in. He does not make the complaint in ages past, when ancient Roman persecution ended and a saint said that easy times rob the Church of her saints. Now we live in times more reminiscent in pagan terms of Ragnarok or the Kali-Yuga, where Norse paganism sided with the good gods because they wanted to go down losing on the right side. But this is precisely not the Christian situation. It is more like a business with unrestricted Facebook use, where some people spent all their work hours sunk into social media, while the worker bees became even more focused. Things are darker outside for Christians, but for many the divine light shines more starkly. I have been blessed.
I have titled this piece "More Than Royalty" because whatever is distinctive about royalty, or giftedness, or wealth is a shadow compared to what is built into the human constitution in the divine image. The reference is obvious:
Who shall separate us from the love of Christ? shall tribulation, or distress, or persecution, or famine, or nakedness, or peril, or sword? As it is written, For thy sake we are killed all the day long; we are accounted as sheep for the slaughter. Nay, in all these things we are more than conquerors through him that loved us. For I am persuaded, that neither death, nor life, nor angels, nor principalities, nor powers, nor things present, nor things to come, nor height, nor depth, nor any other creature, shall be able to separate us from the love of God, which is in Christ Jesus our Lord
Paradise is wherever the saints are!
(What more is there to say?)
Want a good dose of clear thinking about the spiritual side of surviving in a world with coronavirus and COVID-19? Read more of How to Survive Hard Times!