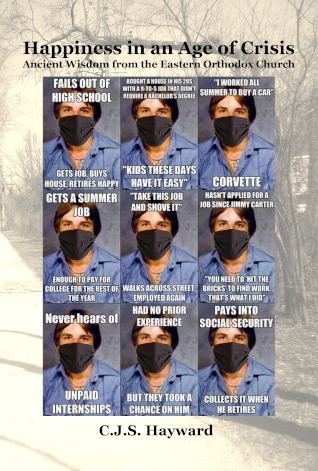 [With apologies to St. Seraphim, and I really hope my adaptation doesn't come across as comparing myself to a great saint I am deeply indebted to!]
To Your Brilliance, and you know who you are:
On the topic of worry, Your Brilliance said that I was a monk and therefore not subject to worry, but you, not being a monk, have worries. And I, poor not-even-a-novice Christos, wish to open your eyes to something. I, poor Christos, have nothing that is not an open door for you.
Where to begin?
One start might begin with commercials to stimulate covetousness back in 1993:
Some of the technologies in the "YOU WILL" commercials are already obsolete; we don't need to get tickets from an ATM because we can do that with a phone in our pockets, and we don't need to carry our medical records in our pockets because the electronic storage of records obviates the need to carry a physical device so doctors can have your records.
But in retrospect, the following "anti-commercial" could be added:
Have you ever drained yourself by compulsively checking your phone easily a hundred times a day?

Have you ever had several Big Brothers know your every every step, every heartbeat?

Have you ever had every keystroke you've ever typed be recorded and available to use against you for all your remaining life?

Have you ever met people from the last generation that remembers what life was like before the world went digital?

and AT&T ain't the only company that will bring it to you!
No technology is permanently exotic. It may be the case that Jakob Nielsen said, "In the future, we'll all be Harry Potter," meaning we will all have gadgets that do super things. It did not, of course, mean that we will be playing Quidditch—a dated remark, given that we now have flying motorcycles.
It might be deadly difficult to use them to try and play Quidditch, or perhaps some Internet of Things technology could make such Quidditch playing no more dangerous than in J.K. Rowling's imagination, but that important safety caveat does not change the fact that we can do things Nielsen didn't imagine... but still, no technology is permanently exotic, and none of these technologies really change the poverty that "Old Economy Steve" was privileged not to even need to fathom: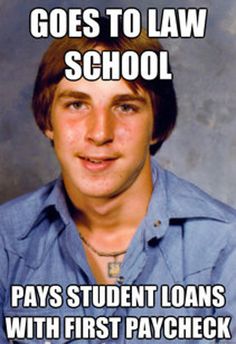 And the picture is false if it is assumed that "YOU WILL" is simply Old Economy Steve's vibrant economy with electronic tolling and other such things tacked on.
Telling of a story
There was one story poor Christos thought to write, but it has some things intended at surface level that apparently are not at surface level. Hysterical Fiction: A Medievalist Jibe at Disney Princess Videos was intended to be an obvious inversion of a bad habit in fantasy and historical fiction that has at least one postmodern wearing armor. The reading experience is like what it is like for an American to travel to England, enter a shop, and be greeted with the same accent as back home. However, very few people got it, so poor not-even-a-novice Christos would rather tell of a story than tell the imagined story itself.
The story would be set in what is treated as a dark science fiction world, and presents the shock of seeing how things really are, that we have pretty much everything promised in the "YOU WILL" commercials, if perhaps not the Old Economy Steve assumptions about basic wealth.
But amidst this darkness is something important, a light that shines in many places. It has been said that Paradise is simply where the saints are, and the well-worth-reading story of Fr Arseny: Priest, Prisoner, Spiritual Father tells of a priest who carries Paradise with himself, even in a concentration camp! And the real core of the story I have wanted to tell is "Guilty as charged" for every element of dark science fiction dystopic reality, but that is really much less significant than a character of light who shines in even the deepest darkness. The Light shines in the darkness, and the darkness never gets it.
Peter Kreeft said that the chief advantage of wealth is that it does not make you happy. If you are poor, perhaps perennially struggling to make ends meet, it may be a difficult temptation to resist to think that if you had money, all your problems would go away. Being wealthy clips the wings of that illusion, and our science-fictiony present clips somewhat the wings of the illusion that life would be great if we could send a fax from the beach. Windows Mobile was advertised under the rubric of "When, why, where, and how you want to work," when it should be, "You will never be free from the shackles of your job."
I would quote the Sermon on the Mount:
"Lay not up for yourselves treasures upon earth, where moth and rust doth corrupt, and where thieves break through and steal: but lay up for yourselves treasures in Heaven, where neither moth nor rust doth corrupt, and where thieves do not break through nor steal: for where your treasure is, there will your heart be also. The light of the body is the eye: if therefore thine eye be single, thy whole body shall be full of light. But if thine eye be evil, thy whole body shall be full of darkness. If therefore the light that is in thee be darkness, how great is that darkness! No man can serve two masters: for either he will hate the one, and love the other; or else he will hold to the one, and despise the other. Ye cannot serve God and mammon.

"Therefore I say unto you, Do not worry about your life, what ye shall eat, or what ye shall drink; nor yet for your body, what ye shall put on. Is not the life more than food, and the body than garments? Behold the fowls of the air: for they sow not, neither do they reap, nor gather into barns; yet your heavenly Father feedeth them. Are ye not much better than they? Do you think you can add one single hour to your life by worrying? You might as well try to worry yourself into being a foot taller!

"And why do you worry for garments? Consider the lilies of the field, how they grow; they toil not, neither do they spin: and yet I say unto you, Even Solomon in all his glory was not arrayed like one of these. 30 Wherefore, if God so clothe the grass of the field, which to day is, and to morrow is cast into the oven, shall he not much more clothe you, O ye of little faith?

"Therefore do not worry, saying, 'What shall we eat?' or, 'What shall we drink?' or, 'Wherewithal shall we be clothed?' (For after all these things do the Gentiles seek:) for your heavenly Father knoweth that ye have need of all these things. But seek ye first the Kingdom of God, and His righteousness; and all these things shall be added unto you. Do not worry about the morrow: for the morrow has enough worries of its own. Sufficient unto the day is the evil thereof.
"If thine eye be single:" a reading of this verse in translations often has the word "healthy" or "sound," and those readings are true. However, in the middle of a real sandwich of teaching about storing up treasures in Heaven and earth, "single" is singularly appropriate. Its meaning is cut from the same cloth as the warning, "Ye cannot serve God and mammon." A "single" eye is one that is undivided, that does not multitask, that as an old hymn says,
Keep your eyes on Jesus,
Look full in His wonderful face,
And the things of this world will grow strangely dim,
In the light of his glory and grace.
What poor Christos has, and this is something monastic aspirants should aspire to, but not anything should be a "greater monasticism" monopoly, is not in any sense being better at planning; it may mean in fact being worse at planning. All of poor, not-even-a-novice Christos's lessons about worrying have not been being better at planning for the future; experience is that trying to solve a life's problems on a day's resources opens the door to despair. What is needed is not greater planning but greater focus on today, and allowing tomorrow to worry for itself. "Each day has enough trouble of its own" is very practical advice. Poor Christos is no better at solving all problems in a day than Your Brilliance; poor Christos is just a little bit better at letting go and trusting in Divine Providence.
That Providence orders the Dance. Blessed Augustine said that if a master sends two slaves along paths that will cross, their meeting is a coincidence from the slaves' perspective but intended by the master as planned. One thing we find in escaping the Hell of self is that that is how God opens our eyes to a broader world.
And really, refraining from worry is the outer layer where there are many layers underneath. People who delve deeper may have no plans; trusting God that if they obey God today, God will plan for them tomorrow. Identity as we understand it today is another treasure on earth we are to let go of, and digging deeper is something of an opposite of magic. I remember as the Hell of self when I had a job and an extended stay hotel room, and I was able to set up technology exactly as my poor self wanted. It might as well have been magic. G.K. Chesterton famously said, "The poet only asks to get his head into the Heavens. The logician tries to get the Heavens into his head, and it is his head that splits." Magic is an attempt to reduce things to the point that we will have more control, while dancing with the Lord of the Dance opens our hands instead of closing them. C.S. Lewis says that we want God to change our circumstances, where God wants our circumstances to control us. Right now poor less-than-a-novice Christos has been working on the Classic Orthodox Bible and trying to publish it in hardcover with larger text when it is cramped as an Amazon paperback. And I wanted to have it ready for the Sunday of Orthodoxy, but it is not appearing like it will be ready; but there may be something in publishing it the next Sunday, the Sunday of St. Gregory Palamas. All concrete hopes, with an 'S' as in 'Shit', will be disappointed. Hope proper, Hope in God, will be fulfilled.
TED talks have made a great deal out of the Stoicism that is a secret weapon in the National Handegg League, with observations like "We suffer more in imagination than in reality." And it is a blinding flash of the obvious that philosophy could make a difference to real people. But what we have here is something more than Stoicism. Stoicism's strengths are preserved in the Philokalia, and there is more. Stoicism is of some benefit, but it does not tell us to follow the Lord of the Dance. It is worth noting, and practical in benefit, but eclipsed by a living exegesis of the Sermon on the Mount:
Righteous Philaret the Merciful, son of George and Anna, was raised in piety and the fear of God. He lived during the eighth century in the village of Amneia in the Paphlagonian district of Asia Minor. His wife, Theoseba, was from a rich and illustrious family, and they had three children: a son John, and daughters Hypatia and Evanthia.

Philaret was a rich and illustrious dignitary, but he did not hoard his wealth. Knowing that many people suffered from poverty, he remembered the words of the Savior about the dread Last Judgment and about "these least ones" (Mt. 25:40); the the Apostle Paul's reminder that we will take nothing with us from this world (1 Tim 6:7); and the assertion of King David that the righteous would not be forsaken (Ps 36/37:25). Philaret, whose name means "lover of virtue," was famed for his love for the poor.

One day Ishmaelites [Arabs] attacked Paphlagonia, devastating the land and plundering the estate of Philaret. There remained only two oxen, a donkey, a cow with her calf, some beehives, and the house. But he also shared them with the poor. His wife reproached him for being heartless and unconcerned for his own family. Mildly, yet firmly he endured the reproaches of his wife and the jeers of his children. "I have hidden away riches and treasure," he told his family, "so much that it would be enough for you to feed and clothe yourselves, even if you lived a hundred years without working."

The saint's gifts always brought good to the recipient. Whoever received anything from him found that the gift would multiply, and that person would become rich. Knowing this, a certain man came to St Philaret asking for a calf so that he could start a herd. The cow missed its calf and began to bellow. Theoseba said to her husband, "You have no pity on us, you merciless man, but don't you feel sorry for the cow? You have separated her from her calf." The saint praised his wife, and agreed that it was not right to separate the cow and the calf. Therefore, he called the poor man to whom he had given the calf and told him to take the cow as well.

That year there was a famine, so St Philaret took the donkey and went to borrow six bushels of wheat from a friend of his. When he returned home, a poor man asked him for a little wheat, so he told his wife to give the man a bushel. Theoseba said, "First you must give a bushel to each of us in the family, then you can give away the rest as you choose." Philaretos then gave the man two bushels of wheat. Theoseba said sarcastically, "Give him half the load so you can share it." The saint measured out a third bushel and gave it to the man. Then Theoseba said, "Why don't you give him the bag, too, so he can carry it?" He gave him the bag. The exasperated wife said, "Just to spite me, why not give him all the wheat." St Philaret did so.

Now the man was unable to lift the six bushels of wheat, so Theoseba told her husband to give him the donkey so he could carry the wheat home. Blessing his wife, Philaret gave the donkey to the man, who went home rejoicing. Theoseba and the children wept because they were hungry.

The Lord rewarded Philaret for his generosity: when the last measure of wheat was given away, a old friend sent him forty bushels. Theoseba kept most of the wheat for herself and the children, and the saint gave away his share to the poor and had nothing left. When his wife and children were eating, he would go to them and they gave him some food. Theoseba grumbled saying, "How long are you going to keep that treasure of yours hidden? Take it out so we can buy food with it."

During this time the Byzantine empress Irene (797-802) was seeking a bride for her son, the future emperor Constantine Porphyrogenitos (—-797). Therefore, emissaries were sent throughout all the Empire to find a suitable girl, and the envoys came to Amneia.

When Philaret and Theoseba learned that these most illustrious guests were to visit their house, Philaret was very happy, but Theoseba was sad, for they did not have enough food. But Philaret told his wife to light the fire and to decorate their home. Their neighbors, knowing that imperial envoys were expected, brought everything required for a rich feast.

The envoys were impressed by the saint's daughters and granddaughters. Seeing their beauty, their deportment, their clothing, and their admirable qualities, the envoys agreed that Philaret' granddaughter, Maria was exactly what they were looking for. This Maria exceeded all her rivals in quality and modesty and indeed became Constantine's wife, and the emperor rewarded Philaret.

Thus fame and riches returned to Philaret. But just as before, this holy lover of the poor generously distributed alms and provided a feast for the poor. He and his family served them at the meal. Everyone was astonished at his humility and said: "This is a man of God, a true disciple of Christ."

He ordered a servant to take three bags and fill one with gold, one with silver, and one with copper coins. When a beggar approached, Philaret ordered his servant to bring forth one of the bags, whichever God's providence would ordain. Then he would reach into the bag and give to each person, as much as God willed.

St Philaret refused to wear fine clothes, nor would he accept any imperial rank. He said it was enough for him to be called the grandfather of the Empress. The saint reached ninety years of age and knew his end was approaching. He went to the Rodolpheia ("The Judgment") monastery in Constantinople. He gave some gold to the Abbess and asked her to allow him to be buried there, saying that he would depart this life in ten days.

He returned home and became ill. On the tenth day he summoned his family, he exhorted them to imitate his love for the poor if they desired salvation. Then he fell asleep in the Lord. He died in the year 792 and was buried in the Rodolpheia Judgment monastery in Constantinople.

The appearance of a miracle after his death confirmed the sainthood of Righteous Philaret. As they bore the body of the saint to the cemetery, a certain man, possessed by the devil, followed the funeral procession and tried to overturn the coffin. When they reached the grave, the devil threw the man down on the ground and went out of him. Many other miracles and healings also took place at the grave of the saint.

After the death of the righteous Philaret, his wife Theoseba worked at restoring monasteries and churches devastated during a barbarian invasion.
St. Philaret did not just refrain from worry; he played his part in the Great Dance, and God gave him a wonderful story.
As far as all these things that his wife Theoseba could not see, his trust reached the level of, really, an arrogance, the same arrogance whose hymn I wrote:
Song VIII.
A HYMN TO ARROGANCE.
The Saint opened his Golden Mouth and sang,
'There be no war in Heaven,
Not now, at very least,
And not ere were created,
The royal race of mankind.
Put on your feet the Gospel of peace,
And pray, a-stomping down the gates of Hell.
There were war in Heaven but ever brief,
The Archangel Saint Michael,
Commander of the bodiless hosts,
Said but his name, "Michael,"
Which is, being interpreted,
"Who is like God?"
With that the rebellion were cast down from Heaven,
Sore losers one and all.
They remain to sharpen the faithful,
God useth them to train and make strength.
Shall the axe boast itself against him that heweth therewith?
Or shall the saw magnify itself against him that shaketh it?
As if the rod should shake itself against them that lift it up,
Or as if the staff should lift up itself,
As if it were no wood.
Therefore be not dismayed,
If one book of Holy Scripture state,
That the Devil incited King David to a census,
And another sayeth that God did so,
For God permitted it to happen by the Devil,
As he that heweth lifteth an axe,
And God gave to David a second opportunity,
In the holy words of Joab.
Think thou not that God and the Devil are equal,
Learnest thou enough of doctrine,
To know that God is greater than can be thought,
And hath neither equal nor opposite,
The Devil is if anything the opposite,
Of Michael, the Captain of the angels,
Though truth be told,
In the contest between Michael and the Devil,
The Devil fared him not well.
The dragon wert as a little boy,
Standing outside an Emperor's palace,
Shooting spitwads with a peashooter,
Because that wert the greatest harm,
That he saweth how to do.
The Orthodox Church knoweth well enough,
'The feeble audacity of the demons.'
Read thou well how the Devil crowned St. Job,
The Devil and the devils aren't much,
Without the divine permission,
And truth be told,
Ain't much with it either:
God alloweth temptations to strengthen;
St. Job the Much-Suffering emerged in triumph.
A novice told of an odd clatter in a courtyard,
Asked the Abbot what he should do:
"It is just the demons.
Pay it no mind," came the answer.
Every devil is on a leash,
And the devout are immune to magic.
Thou shalt tread upon the lion and adder:
The young lion and the dragon shalt thou trample under feet.
The God of peace will soon crush Satan under your feet.
Wherefore be thou not arrogant towards men,
But be ever more arrogant towards devils and the Devil himself:
"Blow, and spit on him."'
The Consolation of Theology tells in part the author's worries and wishing to be in control, and learning something that is the very opposite of what we both reach for.
There was a simple "game" on Macintoshes when poor Christos was in high school, called "Global Thermonuclear War," with a "Launch" button. Press the button, and all kinds of missiles launch worldwide and destroy the earth. The lesson is articulated in words: "The only way to win the game is not to play at all." And so it is with worry.
"Do not store up treasures on earth." The further we grow into this, the more we discover we have treasures on earth to give up... and the more we give them up, the more treasures in Heaven our hands are empty enough to receive.
St. Seraphim had a remarkable dialogue with a pilgrim about the meaning of life, and he said it was one thing: the acquisition of the Holy Spirit. Good works do not reach their full stature unless they are relational, done to connect with God. And really, what greater treasure in Heaven is there to have than the Holy Spirit? The expurgation seems painful, and it is painful, but the pain does not last. Or rather it is transcended, like the saint in the story posited above transcends a dark science fiction dystopia. But there is tremendous freedom in letting go.
God wants to open us up to a larger world. Once poor Christos confessed to not being open to God, and was instead of a usual correction was advised to be mindful of the fact that God and the saints are open to us.
But to give a sudden close, poor Christos will reread St. John, A Treatise to Prove that Nothing Can Injure the Man Who Does Not Harm Himself. He needs it, and you might too.