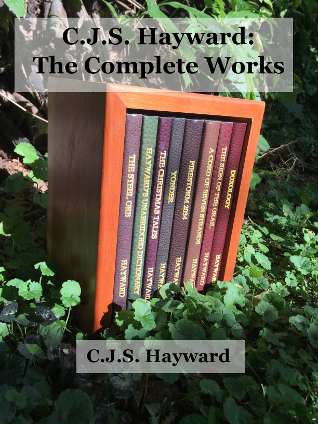 The ground floor
I would like to begin and end with two C.S. Lewis quotes that fairly bracket the Biblical and Orthodox views on wealth. The plain sense of some painful passages in the Gospel and New Testament is an extraordinarily powerful door to important spiritual meadows. The first quote is about the the Sermon on the Mount, but applies to some other passages. Lewis said, "As to 'caring for' the Sermon on the Mount, if 'caring for' here means 'liking' or enjoying, I suppose no one 'cares for' it. Who can like being knocked flat on his face by a sledge-hammer?"
A look at all the New Testament teaching on wealth, in its plain sense, clears things up. The Parable of the Dishonest Steward takes quite a mercenary view of wealth. It is to be squandered in the process of getting onto more important things.
Elsewhere, Christ is dismissive of many showy and lavish gifts given out of rich people's excess, and holds up the gift of the widow's two mites, a gift of the only two practically worthless coins she had, as the paradigm example of right giving. God cares in giving, not what the number is on a cheque, but what they represent, what the spiritual act is that lies at the very heart of the gift. And in the case of the widow in this story, she would have been poor if she had kept both coins, much poorer than any of the wealthy donors after they gave their gift, and she would have been giving sacrificially if she had given "just" one coin. She gave both. Some people have said that she gave too much, but Christ held up the widow giving both her nearly worthless coins as the model of generosity, not moneybags.
The Old Testament passages are too long to quote and perhaps too long to summarize; the appropriate use of wealth is as basic a theme in the Prophets as sexual purity and worshipping God alone. But to pick one passage, and keeping in mind that the Old Testament ultimate insult is a comparison to Sodom as much as today's ultimate insult is a comparison to Hitler, Ezekiel is quite blunt at times and verse 16:49 says, "Moreover this was the sin of thy sister Sodom, pride: she and her daughters lived in pleasure, in fullness of bread and in abundance: this belonged to her and her daughters, and they helped not the hand of the poor and needy." And if this seems a twisting of the Genesis passage telling Sodom's story, consider this: if the story of multiple horrors had at one stroke combined sexual perversion ("unnatural lust", Jude 7), and obscene inhospitality, how would the people of Sodom have treated the poor? It may seem extreme to indict the whole city, and extreme to say that when Abraham bargained with the Lord over Sodom the Lord God of hosts could not find fifty righteous in the city, or even ten, but consider this: who else besides the Lot offered the visiting angels a night's shelter under a roof? Who in the whole society besides Lot offered the angels even a night's shelter?
There is much that could be said of this; an Orthodox monastic reader might see gluttony and failure to care for the poor as the bedrock sin that undergirded the obscene inhospitality of Sodom. And the Orthodox monastic tradition as well finds a tight tie between what lies above the belt, and what lies below; the wandering sexual curiosity shown by the men of Sodom is what happens when the reins are laid on the horse's neck as far as the belly goes. But let us waive this aside and return to the Biblical texts.
One passage in the New Testament that people wince and squirm at is Matthew 25:31-46:
When the Son of man comes in his glory, and all the angels with him, then he will sit on his glorious throne. Before him will be gathered all the nations, and he will separate them one from another as a shepherd separates the sheep from the goats, and he will place the sheep at his right hand, but the goats at the left. Then the King will say to those at his right hand, `Come, O blessed of my Father, inherit the kingdom prepared for you from the foundation of the world; for I was hungry and you gave me food, I was thirsty and you gave me drink, I was a stranger and you welcomed me, I was naked and you clothed me, I was sick and you visited me, I was in prison and you came to me.'

Then the righteous will answer him, `Lord, when did we see thee hungry and feed thee, or thirsty and give thee drink? And when did we see thee a stranger and welcome thee, or naked and clothe thee? And when did we see thee sick or in prison and visit thee?' And the King will answer them, `Truly, I say to you, as you did it to one of the least of these my brethren, you did it to me.'

Then he will say to those at his left hand, `Depart from me, you cursed, into the eternal fire prepared for the devil and his angels; for I was hungry and you gave me no food, I was thirsty and you gave me no drink, I was a stranger and you did not welcome me, naked and you did not clothe me, sick and in prison and you did not visit me.'

Then they also will answer, `Lord, when did we see thee hungry or thirsty or a stranger or naked or sick or in prison, and did not minister to thee?' Then he will answer them, `Truly, I say to you, as you did it not to one of the least of these, you did it not to me.' And they will go away into eternal punishment, but the righteous into eternal life.
Some Jewish readers have said that the point of the Creation story in Genesis 1 is that the human race, including beggars, is one single family. And how we treat beggars is treatment of our brothers and sisters. Now this does not automatically mean in itself that we should give money to beggars: one mother on YouTube put out a plea to stop giving beggars change because her two sons were homeless drug addicts and were using people's generosity for their addictions. But it does mean out-and-out, in full, that come the Crack of Doom, when we can no longer repent, how we have treated our neighbor, including beggars, is tout court how we have treated Christ, and if we regard beggars as being like vermin, we have regarded Christ himself as being like vermin.
The Orthodox Christian tradition is clear that we should give something to beggars, at least those of us who have not made the monastic renunciation of all claim to property and become above alms. None of the priests I've heard say that you should give very much; one Orthodox priest I've heard specifically suggested not giving very much. If we have nothing with us, we can at least give a warm greeting. But we are told to give money, those of us that have something, and we are not guilty if a beggar uses your free gift to feed an addiction ("they may be sponging—that's not for you to judge") any more than God is guilty when he gives us gifts, times, and opportunities that we use in an unworthy manner. I don't know exactly how far Jewish exegesis goes with the image of God, but in Orthodox Christian understanding that is as basic and fundamental to our understanding of personhood gets, and every person we meet, and in particular the low man on the totem pole, is more than our brother or sister. Every man, and not just every Orthodox, is a proxy for Christ. Christ in his own person is in Heaven and does not need anything we can give. But the question that will separate the sheep from the goats at the Last Judgment is "How did you treat me when I came to you in the least of these?" And the righteous and the damned will alike be astonished that everything they have done for the least of their neighbors is how we treated the Judge who comes again in glory to judge the living and the dead.
Another passage, cut from the same cloth, is The Parable of the Rich Man and Lazarus and reads:
There was a certain rich man, which was clothed in purple and fine linen, and fared sumptuously every day: And there was a certain beggar named Lazarus, which was laid at his gate, full of sores, And desiring to be fed with the crumbs which fell from the rich man's table: moreover the dogs came and licked his sores. And it came to pass, that the beggar died, and was carried by the angels into Abraham's bosom: the rich man also died, and was buried;

And in hell he lift up his eyes, being in torments, and seeth Abraham afar off, and Lazarus in his bosom. And he cried and said, 'Father Abraham, have mercy on me, and send Lazarus, that he may dip the tip of his finger in water, and cool my tongue; for I am tormented in this flame.' But Abraham said, 'Son, remember that thou in thy lifetime receivedst thy good things, and likewise Lazarus evil things: but now he is comforted, and thou art tormented. And beside all this, between us and you there is a great gulf fixed: so that they which would pass from hence to you cannot; neither can they pass to us, that would come from thence.'

Then he said, 'I pray thee therefore, father, that thou wouldest send him to my father's house: For I have five brethren; that he may testify unto them, lest they also come into this place of torment.' Abraham saith unto him, 'They have Moses and the prophets; let them hear them.' And he said, 'Nay, father Abraham: but if one went unto them from the dead, they will repent.' And he said unto him, 'If they hear not Moses and the prophets, neither will they be persuaded, though one rose from the dead.'
I will briefly pause to note that the rich man ate sumptuously every day. Slightly more to the point is that the rich man, who never "got it"—even in torment he treated Lazarus as a servant and seemed not to care for him—did not care for the beggar who was at his doorstep. The rich man is not faulted because he failed to feed every beggar in the world, but that he failed to feed the beggar at his doorstep.
And this brings me to a point that I'd rather not mention, that some of us meet requests for money etc. coming from Africa or the Third World, and that in my experience and those I've consulted with these requests are "little better than a con." There may be a real need; but that real need can take a gift of $12, more than one usually gives a beggar at one's doorstep, and persist in calling it small. Some of these requests for money are probably legitimate; it has not been my knowledge that they ever stop asking for more: The leech has two daughters; "Give, give," they cry. We can and perhaps should give some non-local gifts, and while charity is one of many things that finds its a natural place in the home, this is a case where organizations like International Orthodox Christian Charities can best connect gifts with needs.
But enough of this for now, which should be a footnote after one has decided to show mercy and treat all neighbors as a face of Christ himself. The whole parable is meant to hit us flat on the chest with a sledgehammer. The heart of the parable says something very sharp and stark about being in luxury and failing to care for the beggar at our doorstep. There is a classic story about how millions of starfish had washed ashore, and a man was throwing them away from the sand, where they would die, back into the sea. Someone came to him and said, "What are you doing? There are so many that you can't make a difference!" and the man threw another starfish and said, "It made a difference to that one!"
We cannot address every face of Christ in our neighbor ("And who is my neighbor?"—yet another question Christ answered with a sledgehammer; see at least part of the footnote on verse 35). It's not just that we can't make things 100% better; perhaps we cannot make things right for 1% of the population, and most likely, if we can write just one cheque that will neatly solve a problem, odds are good that Christ is not working through us. But we would do well to buy one family a bag of groceries, or buy a cheap refurbished Lenovo Thinkpad (a line of notebooks that is cheap and good) and ask the local professional or teen to install Linux Mint. If God is working with us, there probably isn't any way we can make everything better, but that isn't the point. We may be given the opportunity to makesomething better, and that is the point.
This discussion would not be complete without a discussion of the rich young ruler, Matthew 19:16-26:
And, behold, one came and said unto him, "Good Master, what good thing shall I do, that I may have eternal life?" And he said unto him, "Why callest thou me good? there is none good but one, that is, God: but if thou wilt enter into life, keep the commandments." He saith unto him, "Which? Jesus said, Thou shalt do no murder, Thou shalt not commit adultery, Thou shalt not steal, Thou shalt not bear false witness, Honour thy father and thy mother: and, Thou shalt love thy neighbour as thyself." The young man saith unto him, "All these things have I kept from my youth up: what lack I yet?" Jesus said unto him, "If thou wilt be perfect, go and sell that thou hast, and give to the poor, and thou shalt have treasure in heaven: and come and follow me." But when the young man heard that saying, he went away sorrowful: for he had great possessions. Then said Jesus unto his disciples, "Verily I say unto you, That a rich man shall hardly enter into the kingdom of heaven. And again I say unto you, 'It is easier for a camel to go through the eye of a needle, than for a rich man to enter into the kingdom of God.'"
The young man said, "All of these I have kept from my youth," but this was not true. Christ quoted the commandments dealing with love of neighbor, and underscored the Law of Love. But the Ten Commandments deal first with the love of God, and in fact the young man had an idol: money. He broke "Thou shalt have no other gods before me."
Christ goes on to say that all things are possible with God: in fact St. Philaret the Merciful, discussed below, is a shining example of a man who was rich and who entered the Kingdom of Heaven. And "Go and sell all that thou hast" has been taken to be not just spiritual medicine for the one man, but part of the counsels of perfection of poverty, obedience, and chastity. But those of us who are not monastics are called to be poor in spirit, to be detached from our possessions and observe spiritually what monastics observe literally.
Some people have taken the passage to mean that whatever idol is more important to you than God, that must be sacrificed, and in this case the idol happened to be money. And indeed it is good to recognize that we can have other idols besides Money in our heart, and that spiritually speaking we should tear out our right hand and our right eye if that is the cost of spiritual freedom. But it is not the case that this passage is a passage about letting go of whatever idol you have, and it so happened that in this random sampling the idol was money. This passage is about money as well as whatever may happen to be an idol, and it is cut from the same cloth as St. Paul writing, "greed, which is idolatry" (Colossians 3:5). Any inordinate attachment is idolatry, and there are a great many things besides money that one may be attached to. But money is an easy-to-reach hazard, and it is not random that the Bible fills out the contours of an idol in the young man's heart with "great possessions."
On to a saint who handled money well:
I would like to give one extra-Biblical source in the life of a saint. Perhaps the saints are athletes and do not represent the threshold of what is barely adequate, but people are more quickly recognized from caricatures than from merely accurate portraits, and St. Philaret the Merciful provides, if you will, a diamond-sharp outline of one caring for the poor:
Righteous Philaret the Merciful, son of George and Anna, was raised in piety and the fear of God. He lived during the eighth century in the village of Amneia in the Paphlagonian district of Asia Minor. His wife, Theoseba, was from a rich and illustrious family, and they had three children: a son John, and daughters Hypatia and Evanthia.

Philaret was a rich and illustrious dignitary, but he did not hoard his wealth. Knowing that many people suffered from poverty, he remembered the words of the Savior about the dread Last Judgment and about "these least ones" (Mt. 25:40); the the Apostle Paul's reminder that we will take nothing with us from this world (1 Tim 6:7); and the assertion of King David that the righteous would not be forsaken (Ps 36/37:25). Philaret, whose name means "lover of virtue," was famed for his love for the poor.

One day Ishmaelites [Arabs] attacked Paphlagonia, devastating the land and plundering the estate of Philaret. There remained only two oxen, a donkey, a cow with her calf, some beehives, and the house. But he also shared them with the poor. His wife reproached him for being heartless and unconcerned for his own family. Mildly, yet firmly he endured the reproaches of his wife and the jeers of his children. "I have hidden away riches and treasure," he told his family, "so much that it would be enough for you to feed and clothe yourselves, even if you lived a hundred years without working."

The saint's gifts always brought good to the recipient. Whoever received anything from him found that the gift would multiply, and that person would become rich. Knowing this, a certain man came to St Philaret asking for a calf so that he could start a herd. The cow missed its calf and began to bellow. Theoseba said to her husband, "You have no pity on us, you merciless man, but don't you feel sorry for the cow? You have separated her from her calf." The saint praised his wife, and agreed that it was not right to separate the cow and the calf. Therefore, he called the poor man to whom he had given the calf and told him to take the cow as well.

That year there was a famine, so St Philaret took the donkey and went to borrow six bushels of wheat from a friend of his. When he returned home, a poor man asked him for a little wheat, so he told his wife to give the man a bushel. Theoseba said, "First you must give a bushel to each of us in the family, then you can give away the rest as you choose." Philaretos then gave the man two bushels of wheat. Theoseba said sarcastically, "Give him half the load so you can share it." The saint measured out a third bushel and gave it to the man. Then Theoseba said, "Why don't you give him the bag, too, so he can carry it?" He gave him the bag. The exasperated wife said, "Just to spite me, why not give him all the wheat." St Philaret did so.

Now the man was unable to lift the six bushels of wheat, so Theoseba told her husband to give him the donkey so he could carry the wheat home. Blessing his wife, Philaret gave the donkey to the man, who went home rejoicing. Theoseba and the children wept because they were hungry.

The Lord rewarded Philaret for his generosity: when the last measure of wheat was given away, a old friend sent him forty bushels. Theoseba kept most of the wheat for herself and the children, and the saint gave away his share to the poor and had nothing left. When his wife and children were eating, he would go to them and they gave him some food. Theoseba grumbled saying, "How long are you going to keep that treasure of yours hidden? Take it out so we can buy food with it."

During this time the Byzantine empress Irene (797-802) was seeking a bride for her son, the future emperor Constantine Porphyrogenitos (—-797). Therefore, emissaries were sent throughout all the Empire to find a suitable girl, and the envoys came to Amneia.

When Philaret and Theoseba learned that these most illustrious guests were to visit their house, Philaret was very happy, but Theoseba was sad, for they did not have enough food. But Philaret told his wife to light the fire and to decorate their home. Their neighbors, knowing that imperial envoys were expected, brought everything required for a rich feast.

The envoys were impressed by the saint's daughters and granddaughters. Seeing their beauty, their deportment, their clothing, and their admirable qualities, the envoys agreed that Philaret' granddaughter, Maria was exactly what they were looking for. This Maria exceeded all her rivals in quality and modesty and indeed became Constantine's wife, and the emperor rewarded Philaret.

Thus fame and riches returned to Philaret. But just as before, this holy lover of the poor generously distributed alms and provided a feast for the poor. He and his family served them at the meal. Everyone was astonished at his humility and said: "This is a man of God, a true disciple of Christ."

He ordered a servant to take three bags and fill one with gold, one with silver, and one with copper coins. When a beggar approached, Philaret ordered his servant to bring forth one of the bags, whichever God's providence would ordain. Then he would reach into the bag and give to each person, as much as God willed.

St Philaret refused to wear fine clothes, nor would he accept any imperial rank. He said it was enough for him to be called the grandfather of the Empress. The saint reached ninety years of age and knew his end was approaching. He went to the Rodolpheia ("The Judgment") monastery in Constantinople. He gave some gold to the Abbess and asked her to allow him to be buried there, saying that he would depart this life in ten days.

He returned home and became ill. On the tenth day he summoned his family, he exhorted them to imitate his love for the poor if they desired salvation. Then he fell asleep in the Lord. He died in the year 792 and was buried in the Rodolpheia Judgment monastery in Constantinople.

The appearance of a miracle after his death confirmed the sainthood of Righteous Philaret. As they bore the body of the saint to the cemetery, a certain man, possessed by the devil, followed the funeral procession and tried to overturn the coffin. When they reached the grave, the devil threw the man down on the ground and went out of him. Many other miracles and healings also took place at the grave of the saint.

After the death of the righteous Philaret, his wife Theoseba worked at restoring monasteries and churches devastated during a barbarian invasion.
And for a last quote from the Gospels, I will turn to the Sermon on the Mount, and more specifically Matthew 6:19-34:
Lay not up for yourselves treasures upon earth, where moth and rust doth corrupt, and where thieves break through and steal: But lay up for yourselves treasures in heaven, where neither moth nor rust doth corrupt, and where thieves do not break through nor steal: For where your treasure is, there will your heart be also. The light of the body is the eye: if therefore thine eye be single, thy whole body shall be full of light.

But if thine eye be evil, thy whole body shall be full of darkness. If therefore the light that is in thee be darkness, how great is that darkness! No man can serve two masters: for either he will hate the one, and love the other; or else he will hold to the one, and despise the other. Ye cannot serve God and mammon. Therefore I say unto you, Take no thought for your life, what ye shall eat, or what ye shall drink; nor yet for your body, what ye shall put on. Is not the life more than meat, and the body than raiment? Behold the fowls of the air: for they sow not, neither do they reap, nor gather into barns; yet your heavenly Father feedeth them. Are ye not much better than they? Do you think you can add one single hour to your life by taking thought? You might as well try by taking thought to work your way into being a foot taller!

And why take ye thought for raiment? Consider the lilies of the field, how they grow; they toil not, neither do they spin: And yet I say unto you, Even Solomon in all his glory was not arrayed like one of these. Wherefore, if God so clothe the grass of the field, which to day is, and to morrow is cast into the oven, shall he not much more clothe you, O ye of little faith? Therefore take no thought, saying, 'What shall we eat?' or, 'What shall we drink?' or, 'Wherewithal shall we be clothed'? (For after all these things do the Gentiles seek:) for your heavenly Father knoweth that ye have need of all these things. But seek ye first the kingdom of God, and his righteousness; and all these things shall be added unto you.

Take therefore no thought for the morrow: for the morrow shall take thought for the things of itself. Sufficient unto the day is the evil thereof.
"If thine eye be single:" a casual observer might think that this is a bit of something else tucked into a passage on a different topic, and most modern translations try to provide an equivalent rendering of "If thine eye be sound / whole", perhaps with a footnote clarifying that the word has connotations of generosity. This much is of course true, but it is beside the point. "If thine eye be single" means "If your eye looks on God with an undiluted, unmixed gaze rather than trying to serve two masters." And there is more to be said, but I am getting ahead of myself slightly. Let it be enough now to say that "If thine eye be single" is cut from the same cloth as the verses that surround it. But I am about to get ahead of myself.
Let me pick up another thread. There are a number of threads in this seamless tapestry, and they're all interconnected. To pick up another thread, Christ says, "No man can serve two masters." We may relate to money, and the things it can buy, like a servant that washes our clothes and dishes, builds a fire in the winter and cools the air in the summer, and so on and so forth. But Christ in the Sermon on the Mount does not call Money a servant, but a master. Treasures on earth may do two things: they can bring pleasure and luxury (a point which the Sermon on the Mount does not really discuss), and they can be looked for for security. And Christ unconditionally forbids us to look to money for our security, because the security we are to have is God's providence and nothing less. My commentary on the Sermon on the Mount is called The Most Politically Incorrect Sermon in History, and for good reason. To pick up one thread, the whole concept of American money management, that you treat almsgiving like a luxury in that you get your ducks in order and then give a portion to others, is simply not present in the Sermon on the Mount. The Sermon on the Mount bids us to be like the birds of the air and the grass of the field, whom even Solomon with his yearly tribute of 666 seventy-five pound "talents" of gold never came close to. The Sermon on the Mount bids us trust in the providence of God. Money may have legitimate use; property may have legitimate use, and I am not poor like a monastic: I own both money and property. But the question is not whether trusting in God's providence is really a secure alternative to financial planning; the question is whether financial planning is a valid substitute for trust in the Lord's providence that leaves one as naked as Adam before the threats of the world, and the answer is no. People try to trust in financial planning because they don't trust the most superficial sense of the Sermon on the Mount here: I can remember one Protestant pastor preaching, "Don't spend your life protecting the center of things," and he was right. We do have things we legitimately need, and our Creator out of all knows our needs better than we do. We are to pray for our daily bread, an exceedingly modest request and a formality in much of the first world, and trust that the Lord who guides us is the Lord who will provide us, and not because we have a financial plan that atheist and Christian alike could see as square and sound. We are to pray, but we do not need to inform God of our needs or how important our needs are; we are to trust in ways the atheist might find strange. And the entire Sermon on the Mount is an invitation to live the divine life as sons of God.
In A Pet Owner's Rules, I described God as being like a pet owner who has two rules:
I am your owner. Receive freely of the food and drink I have provided.
Don't drink out of the toilet!
And all the imposing "Thou shalt not"s in the Bible really boil down to "Don't drink out of the toilet." Drunkenness—not getting drunk once or twice but drunkenness being the new normal—is drinking out of the toilet, and any recovering alcoholic will tell you that bondage to alcohol is suffering you wouldn't wish on your worst enemy. It takes humility to enjoy even pride, as G.K. Chesterton observed, and the further you sink in pride the more miserable things look: pride is drinking out of the toilet, as is lust. Lust is the disenchantment of the entire universe; it disenchants everything else and then disenchants itself. All sin is drinking out of the toilet, including seeking providence in things you own, but the second rule is a footnote to the first. "Don't drink out of the toilet" is a footnote to "I am your owner. Receive freely of the food and drink I have provided you." The Sermon on the Mount's "Do not store up for yourselves treasures on earth, where moth and rust doth corrupt, and where thieves break through and steal" is a footnote to "But lay up for yourselves treasures in Heaven, where neither moth nor rust doth corrupt, and thieves do not break through and steal," the words about "No man can serve two masters" is an invitation to serve the one Master whose yoke is easy and whose burden is light, and the dismissive rebuke to those who would seek a second-rate, fake, ersatz providence in something that is less than man, in cold, soulless gold or stock shares, is so that we may seek the providence of a Heavenly Father who knows and loves us better than we can ask and who can care and provide for us, in needs he himself created in us, better than all the shares of stock that the world will ever know.
The Ladder to Heaven
I will give perhaps one last long quote, if indeed anything can be given after these Gospel passages. The intent is not to transcend them further, but rather to open them up, and transcend their outer meaning to open up their inner heart. The quotes as I have treated them are a look at the literal plain sense of Scripture, which is perfectly legitimate, and is something like Dr. Who's TARDIS: once you open them up, they are larger on the inside than on the outside.
Fr. Damascene in an Ancient Faith Radio interview:
We will begin at the beginning. The holy fathers of the Orthodox Church say that man was created in a state of pristine simplicity—pure awareness. In the beginning, his thoughts and memories were not diversified and fragmented as they are today, but were simple and one-pointed. He knew no mental distraction. While being wiser than any human being today, he was in a state of innocence, like a child, and in this state he lived in deep personal communion with God, and in harmony with the rest of creation.

Being in such close communion with God, primordial man participated directly in God's grace, which he experienced as a divine and ineffable light dwelling within his very being. Here I am referring to the Orthodox Christian understanding of Grace, as the uncreated energy or power of God, in which God, Himself, is fully present. The holy fathers of the Church say that we can never know God's essence, but we can know and experience God through His uncreated energy. Through God's uncreated energy, or grace, we can participate in the divine life of God, Himself.

So in the beginning man had this grace dwelling with him, united with his soul. He was created in grace, and he possessed it as his own personal strength or power, but through the wrong use of his free will, he fell from the state of grace. Before, he had had communion with God. He had acted in accordance with the Way, the Tao, in accordance with the divine Logos. His fall was a departure from the Way, and this departure resulted in a corruption of his nature. Now grace was foreign to his nature, and he no longer had it living within him. He became spiritually dead, and this spiritual death made him subject to physical death.

With man's departure from the Way, he lost the primal simplicity and became fragmented. His awareness was no longer single and one-pointed. As St. Macarius the Great wrote in the 4th century, "After his transgression, man's thoughts became base and material, and the simplicity and goodness of his mind were entertwined with evil, worldly concerns."

Also with his departure from the Way, man fell under the illusion of his self-sufficiency. Before, when he had lived in communion with God, he did not regard himself as self-sufficient. Living in harmony with the Way, he had acted spontaneously, without striving and without self-interest. When he stepped away from God, he fell to the lie that he could exist of himself. This is a lie, because without God willing him into existence, he would be nothing at all. Now man acted with calculation, no longer spontaneously, striving for the sake of personal gain, and pitting himself against others.

Man had been made to desire and to seek God, to rise ever higher toward God in the communion of love. But when he departed from the Way, he fell to love of himself, and to desire for created things. Since the desire for created things is against man's original nature, it leads to suffering. It can never bring true, complete, and lasting happiness.
I referred to being "naked as Adam" earlier, but I was not in a position to unlock things from "Do not store up for yourselves treasures on earth." To have treasures on earth is not a matter of having possessions, but of wrongful attachment; the problem is in us, not in the possession, and even monks who have taken a vow of poverty may have certain property in a relative sense that may be taken away at any time that is really not much different from how non-monks may own property without falling into the trap of the rich young ruler. Many warnings are given about a world we are to avoid, but the term is occasionally made exceedingly clear: what is evil is not the rest of our Lord's Creation, but our own passionate and wrongful attachment to it. It is like alcoholism: it doesn't exist in bottles, but inside our heart.
I will now speak plainly of one rung on the Ladder to Heaven, and leave others to go further. It is wrong to hold grudges. Now that may seem a strange, if true, thing to say, but there is a real and direct connection. It is wrong for us to be attached to gold, and if getting rid of gold is the price of freedom, good riddance to the gold! (And this again is not because the gold is diseased but because we are diseased.) And if we are unable to let go of gold because we fear what we may lose if we loosen our grip on it, what is to be said for holding onto, and being afraid to let go of, festering wounds? For a grudge is in fact a festering wound that we cling to as if it were gold. And the state of blessedness is to hold every creation loosely, whether visible or invisible, and let go of passion. And we are to let go of grudges, which are a perverse treasure for us, and be as naked as Adam.
But there is more that we hold to our hurt that Adam didn't. The unfallen Adam did not have plans as we have plans and did not have a modern identity as we have identity. Now we may have identity in the anthropological sense, meaning little more than that we speak a particular language a particular way and wear particular clothes a particular way, and that marks us as members of one community and not another. And we must wear some clothing and speak some language. But modern identity is much more, and much less, than its mere anthropological sense: no one, having ponderings about "Who am I?", resolves those ponderings by saying "I dress and talk like other people I know." That is not enough. That is nowhere near enough for such ponderings. The difference between identity in the merely anthropological sense is like the difference between the painter who paints a portrait intended to resemble someone, and the occultist who seeks to create an image just as imbued with life as the person portrayed, in a sense like the Pygmalion legend would have it. Making a picture that is like the person it represents is a feasible project to someone with basic artistic skills. Making a picture that is not merely lifelike, but fully living and alive, is God's prerogative, and modern identity is an effort to make an identity that is much too alive.
And regarding our plans, I remember one priest talking about our having "godly ambitions." There are some contexts where people add the word "godly" when they expect a person to sense that it is something other than "godly." There is no saying in the Gospel that we shall not have plans at all, but there is at least a piecemeal condemnation of trying to plan things out under circumstances when one would think that carefully planning your words is most appropriate: But when they shall lead you, and deliver you up, take no thought beforehand what ye shall speak, neither do ye premeditate: but whatsoever shall be given you in that hour, that speak ye: for it is not ye that speak, but the Holy Ghost. On a large scale and small, it is my experience that having and acting on big-P (P)lans is a recipe for not appreciating the here and now that God gives. Perhaps there is room for little-p (p)lans, perhaps we cannot do without planning of some sort, as we cannot do without identity in the anthropological sense. But all these things—grudges, modern identity, plans—bear the spiritual imprint of treasures on earth. Perhaps what is wrong with them may be seen in Fr. Damascene's picture of Adam. It may be beside the point that Adam wore no clothes and did not know any language not common to all mankind. Could the unfallen Adam bear a grudge and hold on to a festering wound? Could he have plans that existed in his head that would in his mind trump God's will unfolding around him? Could he have some curated collection of individual attributes he used to construct a "me, myself, and I"? In fact all of this would have been immeasurably foreign to him. The unfallen Adam and Eve may have had Paradise for a home, but they did not grasp it in a stranglehold; neither would they have tried to tighten a grip around plans, identity in the modern sense, or grudges. All these things that seem inescapable to us would be a jarring note in Eden, and in fact "Do not store up treasures on earth" in its inner chamber unfolds that we are not to hold physical things as treasures on earth, and we are not to hold invisible, mental things as treasures on earth either: the festering wound of a grudge, or plans, or identity is not to have our fingers close around it. If we climb this ladder that has the literal sense of the Gospel as its base, the higher rungs reach for something incomparably better than grasping at either visible or invisible things; "Do not store up for yourself treasures on earth" is a command to not grasp anything in our hands, but open them up to receive the hand of God and then hold his hand, not choke it with a death grip. It is "Don't drink out of the toilet" all over again.
This is not the top, not near the top, of the ladder that reaches to Heaven. If it reaches above the ground level of the plain sense of the Gospel's teaching about money, it does not yet rise too many steps higher: it simply recognizes that there are more things than treasure on earth we can hold with a deathgrip, and the treasures on earth we can wrongly store up are not only possessions but anything the heart can grasp. Our hands are not made for grasping, even in love. We can hold God's hand, but not compel or grasp it; we can hold our neighbor's hand, and perhaps we can grasp that—but only to our neighbor's harm, and our own. But the higher one climbs the ladder, the more one is free to store up treasures in Heaven.
Would you like to climb higher on the Ladder to Heaven? Read The Ladder of Divine Ascent and the Philokalia for the science of spiritual struggle and some of the finest literature outside the Bible for spiritual growth.
And as promised, one last C.S. Lewis quote. The portion I have been able to track down is from the introduction to The Great Divorce: "You cannot take all luggage with you on all journeys; on one journey even your right hand and your right eye may be among the things you have to leave behind." But the introduction itself also states: "I believe, to be sure, that any man who reaches Heaven will find that what he abandoned (even in plucking out his right eye) was precisely nothing: that the kernel of what he was really seeking even in his most depraved wishes will be there, beyond expectation, waiting for him in 'the High Countries.'"
Have a blessed Lent.
Posted on Clean Monday, Lent, 2014.