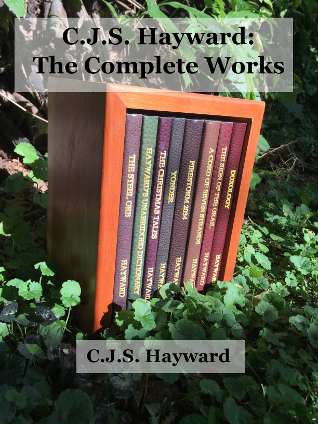 I
He kicked the can, which skittered across the sidewalk. Shards of glass bounced off, their razor sharp edges gleaming in the light. Jason sat down on a park bench, and glared at the old man sitting on the other end. He looked decrepit and stupid, with a moronic smile. The man was feeding pigeons. The geezer probably didn't even own a TV. A boring man doing a boring thing in a boring place on a boring day.
Jason liked to verbally spar with people. He liked to free them from their deceptions, their illusions. "The unexamined life is not worth living," and he would rather be hated as a gadfly than loved as a demagogue.
As Jason sat thinking, the old man said, "It's a beautiful, sunny day, isn't it?"
"The Poet Wordsworth aptly called it 'the dreary light of common day.' It is a dull surface, under which ferments a world of evil. Did you know, for instance, that Hitler's Holocaust was only one of many massive genocides this century that killed over a million people? Did you know that even Hitler's Jews are dwarfed by the fifty million who died in Stalin's purges?"
The smile disappeared from the old man's face. "No, I did not."
"You who say that it's a beautiful day — what do you know about suffering?"
The old man's face quivered, ever so slightly, for a moment. "My best friend, when I was a boy, was named Abraham. He died at Auschwitz. My eldest brother, on the other hand, was swept up by the Nazi propaganda and became a concentration camp guard. He was never convicted of war crimes, but he hanged himself a week after I was married. I am now a widower."
Jason was silent for a moment. He was struck with respect at this man's suffering — and watched as a tear gathered in his eyes, and slowly trickled down his wrinkled cheek. As he looked, he saw part of why the old man looked so ugly to him — his face bore scars of chemical burns.
A sense of discomfort and unease began to fill the young man. He shifted slightly, and began to talk about something else.
"I have read many books about knights and ladies, about wizards and dragons. In those stories, there is magic and wonder; there are fairies who grant wishes. The hero wins, and the story is beautiful. This world is so bleak and desolate and gray next to those worlds. If only there were another world. If only there were a way to get in."
"How do you know that there isn't?"
The young man looked with puzzlement. "What do you mean?"
"How do you know that this fantasy isn't true?"
"I have never had any reason to believe in it."
"When you were a little boy, did you believe in the Holocaust?"
"I hadn't even heard of it, let alone having reason to believe in it."
"But was it true?"
The young man looked as if he was about to answer, and then said, "Do you really believe in another world, in magic and wonder?"
"I might."
"Tell me about it."
"I cannot now explain it in any words that would make sense to you. I could try, but it would sound like complete nonsense."
"Try."
"Pretend that I am blind. Explain to me the colors."
Jason opened his mouth, paused for a second, and then closed it.
"Am I to believe that you are some sort of great wizard, and that you have a gift of seeing into and travelling to another world?"
"Maybe."
The old man spoke in enigmas and riddles, and yet there was something about him... He did not seem to be lying — and if he was, he was a far better liar than most. He was a puzzle, and Jason liked puzzles. He had been tricked and manipulated many times, and it might at least break the tedium to be tricked and manipulated by someone who was more interesting than he looked. So he decided to play along.
"Do you think that I could make my way into another world?"
"Maybe."
"Is it hard?"
"It is very hard, and very easy. How much do you want to do it?"
"Very much."
"If I send you on great and difficult tests, to meet many trials, will you do it?"
"I will."
"If I tell you to spend long hours studying spell books and grimoires, finding potions and amulets, are you ready for that?"
"I am."
"And if I set before you tasks more difficult and strange, and send you to do battles against monsters more evil than assassins and more deadly than dragons, can you do that?"
"I will try."
"Can you trust me?"
For a moment, Jason's mask slipped. He stalled. A minute passed — a minute that seemed like a year. Finally, he croaked, "I don't know."
The old man nodded, and said, "I understand." He looked at the young man; there was something in his eyes that the young man could not identify.
"The way is difficult, with many trials, and the last one is the most difficult of them all. I cannot tell you what they will all be like, or even their number. When we next meet, I will be ready to give you the first."
"When do you want to meet next?"
"No matter when; we will meet."
"Can you help me?"
"I cannot do your tasks for you. But I give you this."
The old man placed his hand on the young man's head, his palm atop the skull, fingers and thumb spreading out across his scalp. He closed his eyes — and Jason felt that it would be proper to do the same. He sat in absolute silence and stillness. A moment passed.
Finally the old man removed his hand. Picking up his cane, he stood up, and slowly began to walk away, leaving Jason sitting and pondering.
II
The next day, doubts filled Jason's mind. Had he dreamed the encounter? Why would there be such a bizarre old man? If he really had the powers and knew the wonders he hinted at, why on earth would he be sitting in a park and feeding pigeons? Each city had its share of eccentrics, but still...
As he went about his studies and activities for the next few days, he was nagged by thoughts about the man. He loved fantasy, from childhood games of make-believe to reading books and watching movies — but all of his yearning would not make it com true. He felt that he could neither believe nor trust the old man. Yet their interaction had excited, not quite a hope, but at least a desire that it could be true. He believed in fairies as a child, and he wondered if there might be a time to believe in fairies again.
He didn't talk with anyone about it; others would probably think him a fool. He was sitting in a diner, sipping a cup of coffee and pondering, when a familiar voice said, "May I join you?"
He looked up, startled, and then said, "Please." As the old man sat down, Jason asked, "I forgot to ask your name."
"Senex. And yours?"
"Jason."
"The name of a hero, if I am remembering my mythology correctly," Senex said.
Jason had been thinking of how dull and common his name sounded next to 'Senex', and was again slightly startled. The man still looked old, wrinkled, and ugly — and yet there now seemed to be the faintest hint of something regal about his appearance. After a time, Jason asked, "Do you really have quests for me?"
"Yes, I do. They will help prepare you to enter, and receive the gift and the power."
"And what is the first?"
Senex reached, with both hands, into his pocket. He moved his hands for a little while, as if grasping something slippery, and then brought forth a loosely closed hand. He held his hand over the table, and opened it.
"What do you see?"
"I see nothing. Your hand is empty."
"Do you really see nothing in my hand?"
"Nothing."
"Look closer."
"I still see nothing."
"Wait."
Senex turned his hand, slowly, slightly, from side to side. At last, a tiny gleam of light caught Jason's eye. He immediately bent over to look more closely.
"What do you see?"
"I see a tiny grain of sand."
"Take it."
Jason picked up the grain of sand, and looked at it for a second. "What is my first quest?"
"You have already embarked on your first quest."
"When will I be done?"
"I don't know."
The old man stood up, and walked out of the diner.
III
Back in his room, Jason took the grain of sand out of the napkin he had wrapped it in, and placed in on a white handkerchief on his desk.
It was small, and barely visible. It did not quite look the yellow of beaches — more like a tiny, oddly shaped pebble.
He pulled out a pin, and began to push it about. It rolled irregularly, like a tiny football. As it turned about, it gleamed every now and then. He pulled out a magnifying glass through which to look at it. Magnified, it appeared a small, bulbous crystal, which turned light and dark as it rolled over the fibers of the cloth.
"I wonder if..." He wrapped it up and went to a jeweler, to see if it might be a diamond or some other precious stone.
He came back, disappointed. It was sand, the same as untold numbers of other grains on beaches and in children's sand boxes. It puzzled him. Was it more precious than diamond, a key to a magical portal? It did not scream out, "I am magical!"; it did not glow in the dark, or levitate in the air, or shock him as he touched it. If there was something special about it, it was more subtle than that. But how would Jason unlock the secret? Time passed, and he began to doubt that there was any secret at all — that it was anything more than a common grain of sand.
It was in one of these moments of doubt that he again encountered Senex in the diner, drinking a cup of coffee.
"I don't get it," Jason said, sitting down. Senex still looked into his coffee, sipping it. "What don't you get?"
"You hint at a world of wonders, and then give me a common grain of sand. Are you playing games with me?"
Senex set down his coffee, and looked into Jason's eyes. "What do you think?"
Jason looked at the old man. He began to open his mouth, and then swallowed. "I cannot say that you seem cruel, but neither can I say that your words and actions make any sense to me."
"And?"
After Jason said nothing, the old man said, "What were you looking for?"
"Something great. Something awesome. Something mysterious. A storm of light, maybe. Turgid forces. Ritual magic."
"And what did you find?"
"A common grain of sand."
"Is that all?"
Jason pulled the napkin from his pocket, and unfolded the grain of sand. "All I see is a common grain of sand. Maybe there is something else, but it is invisible to me." He looked at the old man in puzzlement, and saw a look of knowledge in Senex's eyes. "Can you see something else, something that is invisible to me?"
"I can."
"What?"
"Tell me everything that you know about it. What is it?"
"It is something that is found on beaches."
"That is where it is found. What is it?"
"It is an odd-shaped, bulbous thing, very tiny."
"That is its size and shape. What is it?"
"The jeweler said that it is not diamond, or quartz, or anything else like that."
"That is what it is not. What is it?"
"The jeweler said that it is a crystal of silicon and oxygen atoms."
"That is its scientific structure and constituency. What is it?"
"Is it all of these things?"
"All of these things are true of it. What is it?"
Jason drew a deep breath and said, "I don't know."
"Make it into a rabbit."
"How am I supposed to do that?"
"If you can't do that, make it into something else. A fish, perhaps."
"I can't."
"Destroy it."
Jason placed the grain of sand between a knife and a spoon, and crushed it to dust.
"You have broken it into smaller pieces. Now destroy it."
Jason dropped the spoon and knife; the fragments that were the grain of sand, settled on the table. "I can't."
"What is it?"
"I don't know." Jason looked into the old man's eyes, expecting to see a look of sadistic pleasure. Instead, he saw the look of greatest compassion.
Jason said, "It is a mystery."
The old man smiled.
Jason gathered the fragments into his napkin, and walked away.
IV
Jason began to think about stones and crystals. The exquisitely rare crystals, the diamond as their queen, were prized, not only because they were beautiful, but because they were rare. Quartz and other crystals, in their luminous beauty, were no surprise to be said to be magical. So it was not too surprising that there should also be a hidden, tiny beauty to the stone and crystal commonly called a grain of sand. Few people owned these gems, not because they were hidden deep within the earth, but because they were hidden from people's notice. When entering another world, Jason would like to be ready to appreciate its beauty — and who knows? Perhaps sand was a treasure imported en masse from that world. In the mean time, he would enjoy his newfound crystalline treasure.
V
Jason asked Senex, "Am I prepared to enter another world, the world from which crystals come?"
Senex answered, "You have begun to begin."
Jason asked, "Are there wonders which make sand pale in comparison?"
Senex answered, "There are wonders which make sand look very bright by the light they shine on it."
VI
Senex lit a candle. Jason watched, waiting for an explanation.
The flame danced and spun. It filled the white column of wax beneath it with a soft glow that melted into the darkness. The flame itself, divided into tongues, danced and jumped again and again into the air, looking as if it just might fly. All around, it illuminated the surrounding forms with a golden light; shadows loomed on the walls and melted into the surroundings.
As Jason watched, a thin layer of clear, molten wax began to form atop the candle. As the flame burned, the heat began to seep into the wax, and the tiny pool grew deeper. A drop, like a tear, began to form on one side of the pool. The molten wax flowed, the stream carrying an indentation in the top of the wax column. The flame jumped and blazed, then settled down as, one by one, drops of molten wax trickled down the side.
The candle was tapered and thin, and it seemed to Jason only a minute until it burned all the way down, and a tiny red glow in the wick rested at the base of an ascending, twisting, turning stream of wispy smoke. Jason sat in peace, enjoying a sense of calm and fullness, digesting the beauty he had watched.
Senex's voice broke the silence. "You have passed your second test, Jason."
VII
The old man had helped Jason open his eyes to one part of the natural world, and he began to explore, with the wonder of a child, the magic all around him.
He discovered that there was one type of item which was the easiest thing in the world to cut with a knife — but, as soon as you had cut it, the cut would instantly heal; there it would be, as whole as ever! It would shape itself around whatever you put it in, and could squeeze through even the tiny holes in cloth — but he had to be careful, because it would also climb the cloth like a ladder. It was quite mischievous — there were some things, which resembled grains of sound, which it would take and make completely invisible.
There were other things that would hide behind, and yet mimic the people and the trees. They were like marionettes, except that they exaggerated and distorted the profiles of whatever they were making fun of. They also played hide and seek with the light, and were very quick — whenever the light would peek to see if it would find them, they would already be hidden somewhere else.
He saw great, massive citadels with vaults beneath, storing hoards of gold and gems deep within, under protections that a dragon's fire could not scratch. Those citadels were decorated, so that even those who dare not break in, would yet come and visit, seeing the gay streamers and the skittish sentinels.
There was another creature that Jason could not see, but was forever sneaking up and tackling him. It never knocked him over, but always wanted to play — it would tousle people's hair, and tickle the little children. It played with the other creatures, too — it jumped around on the grass, and danced and spun with the leaves.
There were other strange creatures that skittered around timidly — some jumped along the ground; some climbed trees and buildings; some swam like fish through the air. Most fled at his approach, but a few would let him touch them — and they were soft and warm.
Even greater than his joy at this beauty was a sense that, beautiful as these things were, they also hinted at something else, a deeper magic. Jason tried to see what it might be, but it always eluded him.
VIII
Enthralled as he was, Jason could not shut out a sense that the beauty was not alone — that there was also something dark and perverse as well. With such beauty, Jason thought in his most enthralled moments that this surely must be the best of all possible worlds. But they he was shocked by ugly realities that forced themselves upon his consciousness: robberies and rapes, children being treated cruelly, and children treating others cruelly. The beauty made him feel as if, somehow, if he opened his eyes wide enough to see all the beauty there was, everything would be perfect — but, try as he might, it didn't work. It was like smelling the softest lilac fragrance on the breeze — and then being punched in the stomach.
It was sinking into a darker mood that he again met Senex, this time on a street littered with garbage. He greeted the old man harshly: "Wave your magic wand, old man, and make this refuse turn into flowers. Open my eyes, so that I may see that all suffering is an illusion, that we live in the best of all possible worlds."
"Suffering is not an illusion, and we do not live in the best of all possible worlds."
"What of the world you said I had begun preparing to enter? Is it not an escape from suffering?"
"Do you not remember the very first question you asked me? Do you not remember the answer?" Tears began to gather in Senex's eyes.
Jason savored a thrill of pleasure at watching the old man suffer, and knowing that the same darkness tormented them both. Then he realized what he was doing, and felt a sense of shame and revulsion at himself. He hated himself and the old man for what he felt.
"If you were going to attack a dragon," the old man finally began, "would you rush at it with neither weapon nor armor nor training? Or would you take at least a little preparation before setting out to attack a leviathan that has slain many heroes far greater than yourself?"
Jason said nothing.
"The questions you ask are big questions, and they must be faced. I wrestle with them, too. And I fear. I do not blame you at all for asking them, though your attitude in asking pierces me." A tear trickled down Senex's cheek.
Jason felt a black hole of shame inside his heart. The darkness he saw, and hated in the world around him — Jason now realized that it was inside him, too. It was like a worm, attacking from outside, and gnawing from within.
He wanted to die.
"Jason," the old man's voice said. "Jason, look at me."
Jason stared at the ground.
"Please."
Jason looked up and cringed, expecting a storm of fury. He looked up, waiting for his punishment. But his gaze was met by teary eyes — and compassion.
"I forgive you."
IX
It was with a certain heaviness that Jason awaited the coming lessons. Not that they doubted that they were good — he was sure of that. But up ahead loomed a fierce battle. The worst part of it was that he knew that the enemy, the worm, was not only lurking at large. It was also inside his heart.
Yet dark as the darkness was, it could never put the light out. And Senex was showing him new things at each meeting.
Senex had with him a book. He said, "Close your eyes and imagine." He opened its dusty leaves, and began to read:
"You pull your arms to your side and glide through the water. On your left is a fountain of bubbles, upside down, beneath a waterfall; the bubbles shoot down and then cascade out and to the surface. To your right swims a school of colorful fish, red and blue with thin black stripes. The water is cool, and you can feel the currents gently pushing and pulling on your body. Ahead of you, seaweed above and long, bright green leaves below wave back and forth, flowing and bending. You pull your arms, again, with a powerful stroke which shoots you forward under the seaweed; your back feels cool in the shade. You kick, and you feel the warmth of the sun again, soaking in and through your skin and muscles. Bands of light dance on the sand beneath you, as the light is bent and turned by the waves."
Senex began to lead Jason through mathematics, history, philosophy, literature — and Jason began to behind a new and different beauty, a beauty that cannot be seen with the eye, nor touched with the hand, but only grasped with the mind. He began to explore imagination, and ideas, and metaphors. He saw light dance in the poetry Senex read; he saw the beauty of order and reason in the philosophers Senex cited. The connections, the play, the dance of ideas was wonderful. Together they explored ideas, and it was an awesome beauty. Jason had a razor sharp mind, and he began to make connections that surprised even Senex.
X
"I still wish that I were a fairy," Jason said, "or that I could become one."
"What do you think you are?"
A searing pain, a pain of dark memory, flashed through Jason's soul. "I don't know," he said. "I hate myself."
"Do you believe that there are some things for everyone to enjoy?"
"Of course. You have shown me what I was blind to — that, outside of us, there are rocks, and stars, and the sky, and trees, and blades of grass, and snails, and stags, and chipmunks, and fish, and eagles, and logs, and mountains, and clouds, and wind, and rain, and the moon, and silence, and music, and beauty, and artwork, and poetry, and stories, and theorems, and arguments, and logic, and intuition, and laughter, and happiness, and books, and subtlety, and metaphors, and words, and st—"
Senex cut him off. "Do you believe that any of it has been given specifically to you?"
Jason looked down at his feet.
"What are you looking at, Jason?"
Jason mumbled, "My feet."
"What are your feet?"
"I don't know," he said, pausing for a moment. Then he continued, "I don't know where they are from, but they move about at my command, like two strange servants, carrying me wherever I want to go."
"What do they carry?"
"A house that has eyes to see, and hands to let me touch and move things, and innards that support and let me live." He paused for a second, and then said, "It is a clockwork masterpiece."
"What lives in this house."
"Well, there is at least a mind that can learn, and think, and explore, and feel."
"Is that rubbish?"
Jason begrudgingly admitted, "No."
"Jason, why are you so downcast?"?
"Because that is not all. Because there is a worm. It roams the world, and it lives deep inside of me."
"I know."
Jason drew back in fear. "What are you going to do to me?"
"What do you think?"
"You must hate me."
"I hate the worm inside of you with all my heart. But I do not hate you."
"You don't?"
"Jason, I love you."
Jason looked up. His face quivered, and tears began to slide down his cheeks. "You do?"
"Jason, may I give you a hug?"
Jason nodded his head.
The tears flowed from deep within. They were tears of sorrow, but yet they were different from the bitter tears he had fought before. They were painful, yet also tears of cleansing and healing.
XI
"In the stories I read, I believe that there are people like us, and also strange and wonderful people like fairies, and elves, and dwarves, and gnomes. I wish I could know them."
"I believe that there are people like us, and also strange and wonderful people like blacks and Hispanics and Asians and Native Americans. And I count myself the richer for the friendships I have shared with such people."
Senex paused, and then continued. "I believe that you have seen much of the beauty that can be perceived with the body and with the mind, and also that you are beginning to appreciate your body and mind — yes, I know that you still wonder why they were given you. You are close to being ready to enter the other world now.
Jason suddenly looked up. "There's more?"
"There is much more, my friend. I think that you are ready for the last trial before entering. The challenge is this: that you must make a friend."
"So I can enter after I make a friend?"
"Yes, but you can't make a friend in order to get in. You must make a friend for the sake of making a friend.
"Does it matter which race?"
"It matters a great deal, but not in the way that you are thinking. You will be blessed by a friend of any race; the difference is not the amount of blessing, but what kind."
XII
Jason was walking along a sidewalk, and saw some children playing in the street, kicking a ball around. Then he watched in horror
a truck comes along
a child kicks the ball
a little girl runs after it
in front of the car
girl trips
brakes screech
Time seemed to slow down; Jason watched everything in horrible slowness.
Then Jason realized he was lying on his side, on the opposite sidewalk. The little girl was in his arms, screaming and holding her knee. The ball was still in the street — flat as a pancake.
Adults began to come out of the building. A young woman ran over to the girl, yelling, "My baby!"
An older woman, with wrinkled walnut skin and silvery skin, walked up to him and said, "Son, you wanna come in? You bleedin'."
Jason looked down. There was a rough abrasion on his elbow, and his shoulder hurt.
Inside the apartment, he was in the same room as the little girl. Her mother was gently wiping her skinned knee with a warm, wet washcloth; the girl was screaming bloody murder. He also had a cloth washing over his elbow; it stung sharply. The children had come in, and were simultaneously and very quickly trying to explain what happened.
The chaos subsided; the children were calmed, and (the children speaking more slowly, and one at a time) the adults understood what happened. "You gonna be soah t'marrah" — and he was.
The family invited Jason for dinner, and told him that he was welcome any time. They were very warm and friendly; at first Jason thought this was because he had saved their little girl. The family was grateful, extremely so, but...
He started to visit from time to time, and he saw the same warm welcome extend to anybody who came in. The family was warm, and emotional, and playful, and as time passed, Jason began to know the specific people —
Emma, the matron who had first invited in, was wise, gentle, and motherly. She was a big woman with an even bigger heart, that seemed to have ample room for anybody who came into the house. She was the person most in charge.
Harold, her younger brother, was full of stories and jokes. He was the life of gatherings, and often had people laughing. He was the person who had travelled the most throughout the United States, and seemed to have his finger on the pulse of the nation — how it had changed, how it had stayed the same, throughout the years.
Jane was Edna's eldest daughter, and the mother of the little girl whom Jason saved. All of the people in the family had an easy-going, warm, welcoming manner — it really was not long before Jason felt as if he were one of the family — but the welcome seemed to crystallize in Jane. She took the most effort to include Jason, and asked him the most questions.
Alfred was Jane's husband. He worked at a factory, and was quite the musician; he played several instruments, and often managed to get the whole family singing and dancing.
Anne was Edna's second daughter, and was perhaps most actively involved in race relations and the womanist movement. Through him, Jason saw a kind of feminism which was completely different; what most struck Jason was that, in its adamant advocacy of womanhood and motherhood, neither Anne nor any of her other womanist friends found any need for abortion, or regarded children as an inconvenience.
Erica, the little girl whom Jason saved, was a little ball of life. She was insatiably curious and inquisitive; more than once, she managed to put Jason somewhat on the spot: "Why you a comin' heah? Da other white folk doan come heah much, like they afraid of us, o' sumthin'." — but she asked in perfect innocence and sincerity, and the open warmth of the others (especially Jane) defused the tension. She was also quite a cuddlebug, and (Jason eventually discovered) more than a little bit ticklish.
Steve, Alfred and Edna's second child, wanted to be a scientist; he was somewhat quiet, and a bookworm. Jason was sometimes amazed by his intelligence, and was able to talk with him about some of the things he had learned from Senex.
Ronald, the baby of Alfred and Edna's family, was full of energy, and energy, and energy, and energy. He would run around the house all day long, and it did not take long for Jason to learn what was Ron's favorite word: "Again!" He seemed to have a tireless enjoyment of the things he knew.
Monica had been adopted by the family, and (in a sense) was Anne's baby. The two of them were quite close, and she seemed to be able to learn very quickly anything Anne told her.
There were also a number of neighborhood children going in and out of the house; the family treasured them, and seemed to welcome them as if they were their own. James wanted to be a pilot; Michael was very much interested in fire, and loved the Fourth of July; Desiree loved to dance with anyone and everyone; Edward chased the other children around.
Jason cherished his moments visiting the apartment, and grew especially fond of Erica. She would often sit on his lap and try to understand the things Jason was talking about (though Jason tended to too often talk about things that were rather complex to reasonably expect a child to understand), and would often playfully tell him how funny he was. Jason came to love the music, the dancing, the laughter, the emotion. He was struck by how different the family was — and how human.
As he came out of the apartment, he saw Senex walking towards him, and tipping his hat. "I am pleased," Senex said, "and I think that you are ready to enter."
XIII
Senex said, "Are you ready to hear a story?"
Jason said, "I think I am."
Senex said, "This is the most important story that I will ever tell you."
Jason said, "I am listening."
Senex began, "Once upon a time, there was a coruscating Light, a surge of power, a rock greater than a mountain. And from this Light was begotten... another facet of the same eternal Eternal essence. Father and Son. Between them shot a fire of love and energy. In and among and from them were glory, majesty, light, power, love, goodness.
"And the Light spoke, and star upon star upon star upon star poured fourth, pulsing with life. They all joined in the great Dance, and spun and turned in wheel within wheel within wheel within wheel. As they danced the great Dance and sung the great Song, the Light and all of the stars revelled in the glory and beauty.
"The first and most glorious of the stars that were formed, held a place in the dance that was second only to the Light itself. The very least of the stars held a place of glory to contemplate for a lifetime, and this was the greatest.
"Then the first star turned, and stepped out of the harmony of the dance, and spoke to the Light. He demanded to be placed above the Light, to lead the Dance himself. 'I am the greatest of the stars; I am greater and wiser and more glorious than you. Cede to me my rightful place.'"
There was something about the demand that jarred Jason, filling him with revulsion to the very core. In it, he saw the essence of everything that is perverse and vile and impure. He wondered why the Light did not blast the star out of existence right there.
"The Light paused, and then said, 'You believe that you are better than me.
"'You believe that you are wiser than me.
"'Prove it.
"'You and your glory were the beginning of my plan; you are not the end of it. I have a plan deep within my heart. You may form whatever plan your wisdom may find for you. And we will let the plans play out, and we will see whose plan is the wiser - yours or mine.'
"And then the star screamed out his blasphemous accord, screamed a scream that tore the very fabric of space. And a third of the stars joined him in his rebellion, and became dragons, and serpents, and worms.
"Thus began a cosmic war.
"The Light again created, a creation that was vivid and new and detailed and wondrous. Slowly, with the patience of an artist, he formed rocks, mountains, and trees. The smallest blade of grass was perfect. He formed a great rock surrounded by lights, then plants which live, then animals which move, then finally men in his own image, likeness, and glory. When he stopped to rest, all of the stars stood watching in awe.
"Then the darkened star came, in the form of a serpent, and beguiled man, to do the one thing that is accursed. And the man and woman, created as immortal gods, bore in them a curse, and began to die from the inside out. They, also, stepped out of the harmony of the dance and out of the source of health; their spirits rotted in vice and evil, and the worm began to infest and grow inside their hearts. There was perversity after perversity after perversity after perversity. One generation after the first sin, came the first murder: brother murdered brother. And the people were quick to embrace evil and forget what is good, even the Light himself.
"And all of the dragons, and serpents, and worms, cackled and screeched with unholy laughter, and the stars winced in pain. The first of Dragons taunted the Light: 'Your plan? Your glorious and wise plan? You have indeed made a fine creation for me to soil. Thank you; I very much enjoy watching the curses grow and multiply.'
"And the men grow wicked, so that they all deserved to die.
"All but one.
"One man walked in the Light.
"And the Light called out to the one man. 'You. You there in the desert, where neither rain nor mist dampen the earth.'
"And the man answered, 'Yes?'
"And the Light commanded, 'Build an immense boat.'
"And the dragons and worms cackled and jeered.
"And the man, ridiculed and cursed by even his friends, built an immense boat.
"And the great Dragon said, 'One candle? You hope by lighting one single candle to vanquish a whole world of darkness? Come, old fool; it doesn't work that way.'
"And the Light remained silent.
"Then the Light called to a man, and told him, 'Leave your kin, your land, your family, everything that is dear to you, and I will give you a son, and make you into a great nation.'
"And the man took up his belongings and left.
"And the Light gave the man a son, and the son grew and matured.
"Then the Light told the man, 'Take your son, whom you love, and sacrifice him to me.'
"And the man obeyed, taking the son up on the mountain to sacrifice. He raises his arm, knife in hand, to strike the child dead.
"And the Light, quick as lightning, sent a star to say, 'Stop. Because you have not withheld from me even your son, I will bless you richly.'
"And the Dragon says, 'What's the point of this? Do you call one or two righteous men to help us see how evil all the rest are? Or could it just be that you are unwilling to admit defeat?'
"And the Light remained silent.
"And in the great Dragon, was the faintest tremor of fear.
"Then the Light called another man, and told him to forsake riches and luxury to free his people from slavery. The man hesitated, shied away from the task before him - and ultimately obeyed.
"Then the great dragon said, 'Can't you just end it now? I know that you've lost, but I'm beginning to feel uncomfortable.'
"And the Light continues his work.
"Through the man, the Light gave a law, showing what is right and what is wrong. And the people - staggeringly, and with many misgivings - started to obey.
"Then the Dragon came to the Light, and the Light said of another man, 'Have you seen this servant of mine? He is upright and blameless.'
"The Dragon scoffed and said, 'Well, of course! Look at all the prosperity you have given him. That is why he worships you. Take it away, and he will curse you to your face.'
"The Light said, 'Prove it. I give you permission to take away everything that he holds dear to him - only do not touch his body.'
"The Dragon breathed fire, and destroys the man's livestock, his possessions, his children. And the man wept in misery. He was told to curse the Light and die. In agony, he screamed in pain and cursed even the day of his birth - but refuses to curse the Light.
"Then the Dragon said, "You know, a man will give everything he owns for his health. You have given this man abundant health - and he is still healthy. Only take that away, and he will curse you to your face.'
"And again, the Light gave permission, only requiring that the dragon not slay him. And the man was covered in painful sores from head to toe, his body wracked with pain, tortured. He was in agony. When three of his friends came, they sat with him for a week in silence because his pain is so great. And still, the man refused to curse the Light.
"The friends then talked, insisting that the man had done wrong, yet he does not even accept their claim. Finally the Light came and spoke through a storm, healing the man and restoring what was lost twice over.
"And the stars rejoiced.
"Then the Light pulled another corner of the veil off of his plan. The Light begotten was sent, and became a man himself, suffering and walking the dust of the fallen world. He called people, telling them to abandon net and boat to follow him - and they obeyed. He healed the sick, diseased, and injured; he casts out fallen stars who have taken possession of people. The dragon attacked again again, trying to have him killed, and tempting him in every way. And yet the Light in earth remained pure and blameless. He began to call people about him, and teach them.
"Then one of the Light's closest friends betrayed him, and the Light himself was hung out and exposed to die. And when the Light died, darkness reigned.
"And the dragons, and serpents, and worms, jeered and cackled. And the great Dragon taunts, 'Your great and wise plan gave me an even greater victory than I had hoped for. I set about to destroy your creation - and now I have destroyed your uncreated Son.'
"And tears flowed.
"Then a surge of light and power flowed, and the begotten Light was alive, transformed, coursing with the power of an indestructible life, and bearing with him the cure for the curse. And the fire of love and energy flowing among and in and from the Light flowed into his followers, too. The Light ascends back into Heaven from whence he came - and dwelt inside them.
"And in the community of those who believe and accept his cure, heroes and martyrs stand for the truth and fought, alongside the stars, against the darkness. And as all were watching — the Light, the stars, and also the dead, that is those who walked before, and now stood cheering those who walk now as they continue in the battle — the wisdom of the plan formed by the Light was revealed in the community of those who believe. In this community, in those whom the Light again draws into the great Dance, was
"A large family of many children for the Light
Mother, and brother, and sister for the begotten Light
A body for the begotten Light to live in
A dwelling place and temple for the eternal fire of love and energy
A witness to the world
A moral preserver and purifier to the world
A servant to the world
A warrior against the great Dragon
"With all of its faults and foibles, the community reached out, and invited others also to step into the Dance.
"Then, as the begotten Light left the world, he returned - in full, unveiled glory and majesty, with all of the stars with him. The dead and the living members of the community were imbued with the same life as he has, their bodies transformed, and shared in the divine nature. The earth was destroyed in a great apocalypse, then remade even better than before. All — the living and the dead alike — were brought forth, and brought to account for their life and deeds; those who had chosen a curse were accursed, and those who had chosen were imbued with life beyond intense. And it was before the renewed, regenerated, transformed community of believers that the Dragon stood, and saw the wisdom of the plan. And it was below their feet that the Light crushed the Dragon, before casting it and all of its minions into a lake of fire. And all of those watching saw in full, not only that the Light is more powerful, but also the immeasurably greater wisdom."
After a time, Jason said, "That is the most beautiful story I have ever heard."
Senex said, "Would you like to have slain the worm that is inside your heart? Would you like to dance the great Dance?"
Jason said, "Yes, I would."
Senex said, "The story is true, and we are now living between the first and second comings of the Light. And he bears with him the cure for the curse — and, if you ask him, he will help you slay the worm that is inside your heart, and let you join his forces to fight the darkness that is in the world."
"How do I do that?"
Senex said, "You must pray a prayer, something like,
"'Lord Jesus, come into my heart.
Forgive my sins.
Draw me into your Light.
Fill me with your Life.
Make me your own.
I give myself to you,
And accept you giving yourself to me.'"
A look of surprise crossed Jason's face. "Is this Christianity?"
"Yes."
Jason's surprise turned to disgust. "But Christianity is narrow-minded and intolerant and repressive and archaic and — You deceived me, and tricked me into thinking it was something beautiful!"
"Jason, have you ever heard Plato's allegory of the cave?"
"No."
"Plato made an allegory, which was more or less as follows:
"Imagine that there is a cave. In this cave are prisoners who have been there from birth. They are shackled, and held in place.
"Behind the prisoners is a wall, and behind the wall a fire.
"People carry things back and forth, above the wall, so that they cast great, flickering shadows on the wall. And as these prisoners grow up, they will never see what a chair, or a book, or a sword looks like. They will only see the shadows on the wall.
"And they will become very good at identifying and recognizing the shadows, and think that they are the realities themselves. They won't think that a pot is a pot. They will think that the shadow is a pot.
"Now imagine that one of these prisoners is brought out of the cave, into the world. He will first be blinded by the light, and then only slowly be able to see. He will see nothing he will recognize, and he will curse those who brought him out.
"But, eventually, he will learn to see — and he will see things infinitely fuller, and richer, and more real than ever before. He will see the realities that cast the shadows.
"Now imagine that he is taken back in the cave again. At first, he won't be able to see anything in the darkness; the others in the cave will believe that he is blind. When he does adjust, he will begin to speak of realities beyond the shadows, which are far greater than what is seen — and the other people will think him mad as well as blind. They will vow to kill anyone who should take anyone else up out of what they believe is reality, into the light."
Senex paused a moment, and then continued.
"There are two things which I would like to say.
"The first is that there are a lot of evil Christians, and Christians have done a lot of bad things. I have been bored by a lot of dull Christians, and hurt by a lot of hypocritical Christians. And I am ashamed of a great deal of what has been done in the name of Christ."
"The second is that what you have seen called 'Christianity' is only a shadow cast in bad light. What I have been doing is helping you to see the reality itself, in the light of the sun."
"But why didn't you tell me it was Christianity to begin with? Wasn't that deceptive?"
"I did not tell you for a reason. I wanted to un-deceive you, and show you the reality itself. If I told you that I wanted to show you Christianity, you would have thought I meant the ugly shadow that is called Christianity — and would you have wanted to know anything about it?"
Jason begrudgingly said, "No."
After a time, Senex said, "I can see by your face that you have more questions. What are they?"
"They are questions you won't like."
"Ask them."
"What about the Inquisition? What about the intolerance? What about saying that all those other people's religions are wrong? What about saying that everyone else is damned to Hell?"
"The Inquisition was one of the darkest moments in Christian history, and it has done damage that hurts people down to this day. It, along with the Crusades has fractured the relationships Christians have with Muslims and Jews to this day. And it does another, even deeper damage. It makes people believe that standing for the truth is evil."
"But what about not accepting other religions? What about Hell?"
"Jason, do you know the worm inside your heart?"
"Yes."
"The worm is inside my heart, too. It is in everybody's heart. And it needs to be killed again and again and again. And, if you do not fight it to the death, it will kill you."
"But... I still don't see why you have to be so intolerant."
"Jason, if I am shot in the arm, can a doctor help me?"
"Yes. He can help stitch you up, so your body can heal."
"What if I refuse to be stitched up? What if I shoot myself again and again, and insist that the doctor heal me without stitching me up or stopping me from shooting myself?"
"But... the doctor can't help you because you won't let him."
"That's right, Jason. A doctor can't help you if you choose injury over medicine. And Jesus is a doctor with the only medicine that works.
"I don't believe in Hell because I want to think about people dying. I believe in Hell for the same reason I believe that shooting yourself is bad for your health — because that's the way it is. I know that other religions are things people put a lot of work into, and take very seriously. But they are not the doctor's medicine, and the cold, harsh reality is that taking the medicine — all of it — is the only way to be healed."
"What about homosexuals? Can't they be Christians like everyone else?"
"Homosexuals can be Christians just like everyone else, the exact same way that everyone else is a Christian. Namely, by letting the doctor heal all of their injuries. All of us have different wounds, and they all need to be healed. I have wounds that most homosexuals don't. I am a recovering alcoholic. I haven't had a drink for sixteen years now, but I spent twenty years of my life as a drunkard. Whatever wounds we have, be they homosexual lust, or drinking too much alcohol, or pride, or any of ten thousand other sins, we need to have them to be healed. All of them."
Jason thought for a while, and then said, "This is the most difficult thing that anyone has ever asked me. I don't know if I can do it."
Senex said, "I know it's difficult, and I can't do it by myself. But there is help. It is a difficult path, but the Light will give you the strength, and give me the strength. And remember the community in the story? They will help you, as they help me."
Jason leaned back, and thought for a time. Then he closed his eyes, trembled, and prayed,
"Lord Jesus, come into my heart.
Forgive my sins.
Draw me into your Light.
Fill me with your Life.
Make me your own.
I give myself to you,
And accept you giving yourself to me."
And angels rejoiced.
And Jason entered another world.